---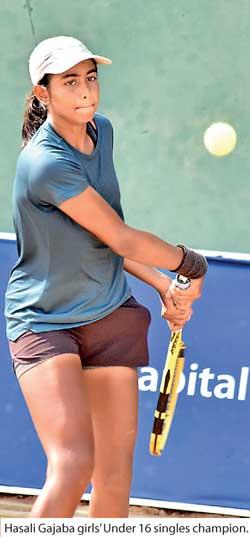 By M. Shamil Amit
Hasali Gajaba made amends after losing her first final two days ago when she clinched the girls' Under 16 singles title of the Clay Court Tennis Nationals with a convincing two sets to nil win against Ruvi Lewkebandara at the SLTA tennis courts in Greenpath, Colombo yesterday.

Only one of the two doubles finals was played with the pair Dinara de Silva and Saajida Razick coming out victorious over Dinethya Dharmaratne and Anitra Dharmaratne in the girls' Under 16 event.

In the process Razick bagged her second title having earlier won the Girls Under 18 singles event.

In the boys' Under 14 doubles event Sandas Usgodaarachchi and Tharuk Marasinghe emerged champions having received a walk over.
Results
All Finals:
Singles: Girls' Under 16 – Hasali Gajaba beat Ruvi Lewkebandara 2-0 (6/2, 6/3)
Doubles: Boys' Under 14 – Sandas Usgodaarachchi/Tharuk Marasinghe received walkover; Girls' Under 16 – Dinara de Silva/Saajida Razick beat Dinethya Dharmaratne/Anitra Dharmaratne 2-0 (4/1, 4/2)