---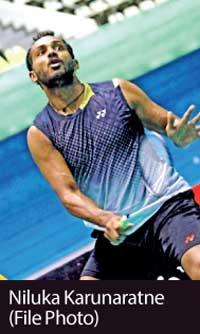 By Susil Premalal
The 2020 National Badminton Championship, postponed from December, will be conducted at three locations, after receiving a large number of entries.

Sri Lanka Badminton (SLB) announced that this premier event, to be worked off from February 17 to 21, will also kick-off their programme for 2021.

The tournament will be worked off at SLB, MBA (Mercantile Badminton Association) and Otters SC courts.
The reigning men's and women's singles champions Olympian Niluka Karunaratne and Dilmi Dias will begin their title defence at the Mercantile Badminton Association courts, with over 795 shuttlers in action during the five-day Championships.

SLB said that 762 matches will be played at the three venues. All top ranked shuttlers have been drawn under their respective categories and age groups at the prestigious event.

In the men's singles, top contenders in the calibre of Lochana de Silva, Ranthushka Karunatilake, Chamath Dias and Dinuka Karunaratne will try their best to dethrone one of the most decorated badminton stars in the history of Sri Lanka badminton in Niluka Karunaratne.

In the women's singles, Chandrika de Silva will join a draw which also includes Hasini Ambalangodage, Madushika Dilrukshi and Nadeesha Gayanthi in the hunt for the women's singles crown held by Dias.
Apart from the open events, matches will be conducted under several age groups for boys and girls including U-15, U-17, U-19 singles and doubles; Men's Over 35 singles; Men's and Women's Over 40, 45 and 50 singles and doubles; Men's Over-55 & 60 singles and doubles; Men's Over 65 singles and doubles.