---
By Shamzeer Jaleel
A hat-trick of tries apiece by Dhanushka Ranjan and Anuruddha Wilwara saw the defending league champions, Kandy Sports Club playing their first home game this season thrashing Army Sports Club by 58 points (9 tries, 5 conversions, 1 penalty) to 13 (1 try, 1 conversion, 2 penalties) at the Nittwela Rugby Stadium on Sunday.
At the breather Kandy led 34/6.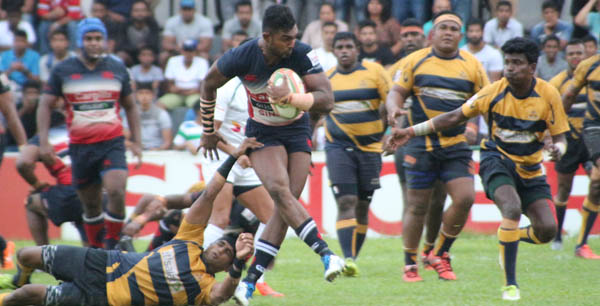 Kandy dished out a high quality three-quarter rugby which left the Soldiers in a daze. Whenever Army got the ball they opted to kick aimlessly and that too into the hands of the speedy Kandy three quarter-line. Army forwards played their hearts out but lacked support from the back division. Also making their presence felt were Fazil Marija, Gayan Weeraratne, Buwaneka Udangamuwa and Srinath Sooriyabandara. In forwards play Sayuru Anthony and Yakoob Ali were mobile in attack as well as in defence.
Army drew first blood in the 4th minute when Kandy line was caught off side. Full back, Gayan Salinda fired across a 35 metre penalty. Five minutes later in a sweeping three quarter move winger, Anuruddha Wilwara touched down for Kandy. Seven minutes later Ranjan blazed though for his first try of the evening. Full back Thilina Wijesinghe put over the conversion. But Army reduced the deficit through a Gayan Salinda penalty. Wilwara's second try was followed by Sooriyabandara's try and took Kandy to a 24/6 lead with Thilina obliging with one of the conversions. There was time for two more unconverted tries by Richard Dharmapala and Dhanushka Ranjan before the breather.
After the turn around Kandy try blitz continued with Wilwara and Ranjan completing their hat-trick of tries. There was time for one Jason Dissanayake try and a penalty by Nigel Ratwatte who was also accurate with two conversions while Thilina kicked one add a couple of points. During the dying stages Army skipper, Thusith Senanayake scored their only try which was goaled by Gayan Salinda.
Picture by Tharik Mohamed