---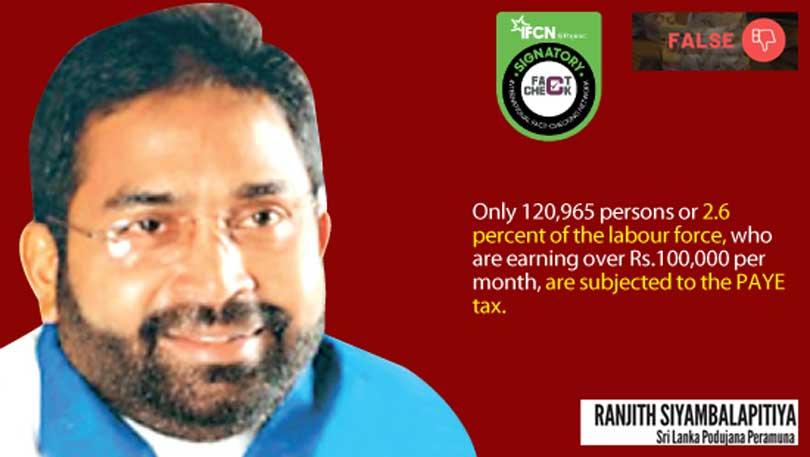 The state minister claims that an extremely small portion of the labour force are eligible to be subject to Pay-As-You-Earn (PAYE) income tax. Since he made this claim in parliament, the statement has been cited and reported widely by high level decision makers and the media.

To check this claim, FactCheck.lk consulted the Inland Revenue Department (IRD) Annual Performance Report 2019 and the Department of Census and Statistics (DCS) Labour Force Survey (LFS) Annual Report 2019.
2019 was considered as the year of reference since the PAYE tax collection scheme was abolished in January 2020. The minimum threshold for individual income tax eligibility in 2019 was the same as at present: being a salaried employee and having a monthly income of Rs. 100,000.

The IRD reports the number of "employees paying income tax under the PAYE scheme" in 2019 as 1,149,883 (See Exhibit 1).

Figures presented in Exhibit 1 show that labour force demographics have remained relatively similar in 2022 compared to the end of 2019. However, nominal GDP has increased by over 50% since then [end 2019] by the end of 2022. This suggests that the number and share of "employees [that would be] paying income tax under the PAYE scheme" would not be any lower in 2023 than it was in 2019.

The 2019 IRD number is almost 10 times the number cited by the state minister for 2023. Also, as a proportion of the labour force the IRD number is 13.4% and not the 2.6% as suggested by the state minister.

Therefore, we classify his statement as FALSE.
FactCheck is a platform run by Verité Research.
For comments, suggestions and feedback, please visit www.factcheck.lk.