---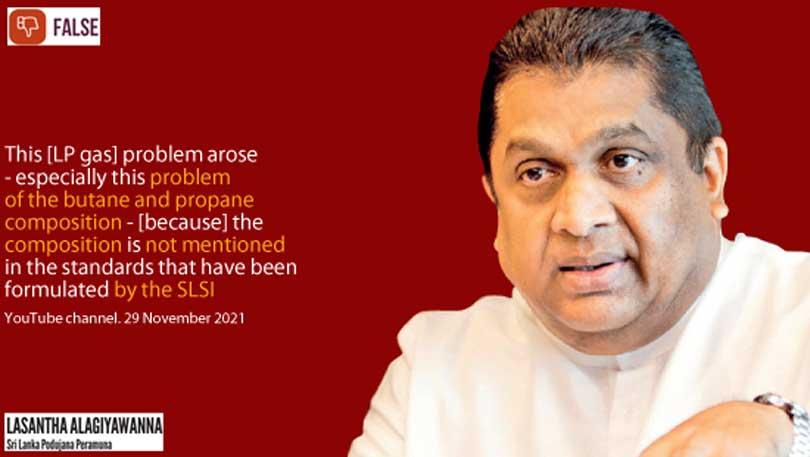 In his address to Parliament, State Minister of Co-operative Services, Marketing Development and Consumer Protection Lasantha Alagiyawanna attempts to attribute the failure to ensure a safe composition of Propane and Butane in domestic liquid petroleum (LP) gas to the lack of a specification on the composition mix in the SLSI standard adopted, as he says that the standard only specifies the level of pressure.

To assess the validity of the state minister's explanation, FactCheck.lk consulted the Guidelines for Good Safety Practices in the LP Gas Industry, which is a comprehensive set of guidelines published by the World LP Gas Association (WLPGA) in cooperation with the United Nations Environment Programme (UNEP). The guidelines cover some of the most important international standards and codes of practice.
LP gas refers to a group of hydrocarbon-based gases derived from crude oil. Its primary constituents are Propane and Butane. At normal room temperature and pressure, both Propane and Butane are gases, but under pressure or sub-zero temperatures, they become liquid. Of the two gases, Propane is more volatile and becomes a gas at –42°C, while Butane becomes a gas only at 0°C. Therefore, the pressure level in the cylinder required to keep the gas in liquid form depends on the ratio of Propane to Butane. That is, when the level of Propane is increased (as it was done in Sri Lanka) the pressure level inside the gas cylinder, at a given temperature, will also increase.

Therefore, when other conditions (such as volume and temperature) are held constant, a limit on pressure also places a limit on the composition mix; this is recognised in the formulation of international standards as well, which also do not specify a single fixed ratio of Propane to Butane for LP gas, but rather the maximum pressure.

Therefore, the minister's statement is incorrect because both locally and internationally, a standard on the pressure level is effectively a constraint on the composition mix as well, and therefore the problem cannot be attributed to the composition mix not being specified in the adopted standard. Hence, we evaluate the minister's statement as FALSE.
FactCheck is a platform run by Verité Research.
For comments, suggestions and feedback, please visit www.factcheck.lk.