---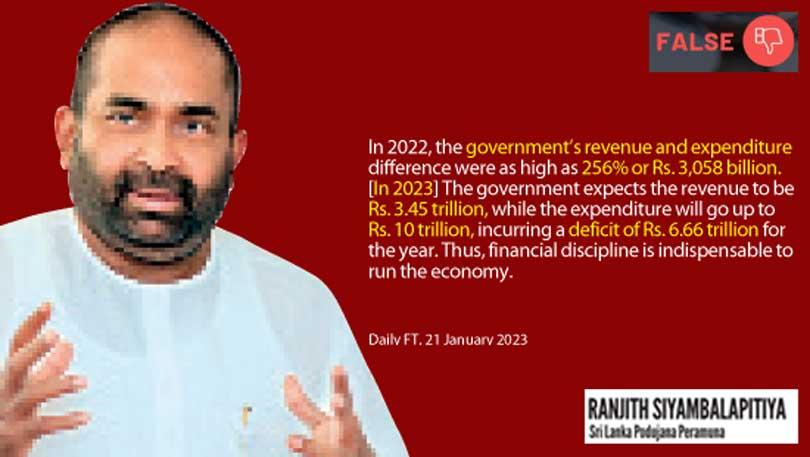 The state minister made this statement in the context of explaining the details of an affidavit filed at the Supreme Court on January 18 by the Secretary to the Treasury. The affidavit is reported to state that the Treasury is finding it challenging to secure funds for an election as it is operating under the prevailing economic crisis. The statements of the state minister provide numbers indicating a huge deterioration of the fiscal position, in support of the treasury position that securing funds for an election would be a fiscal challenge.

To check this claim, FactCheck.lk consulted the approved budget estimates for the year 2023 released by the Ministry of Finance (MoF).

Total government revenue is estimated to be LKR 3,450 billion in 2023. This figure aligns closely with the figure cited by the state minister. However, the budgeted government expenditure for 2023 is only LKR 5,854 billion, not LKR 10,000 billion as claimed by the state minister.
The MP also claims that the deficit (difference between revenue and expenditure) has more than doubled from LKR 3,058 billion in 2022 to LKR 6,662 billion in 2023. However, the deficits projected (in the budget adopted in December 2022) was LKR 2,347 billion for 2022 and LKR 2,405 billion for 2023. That is, there is no material change in the deficit, instead of it doubling as implied by the claim.

The figures introduced by the state minister hugely exaggerates the existing fiscal pressure. He cites government expenditure, as almost two-fold, and deficit, as almost three-fold, of what it is expected to be in 2023. Therefore, we classify the state minister's statement as FALSE.

*FactCheck.lk's verdict is based on the most recent information that is publicly accessible. As with every fact check, if new information becomes available, FactCheck.lk will revisit the assessment
FactCheck is a platform run by Verité Research.
For comments, suggestions and feedback, please visit www.factcheck.lk.