---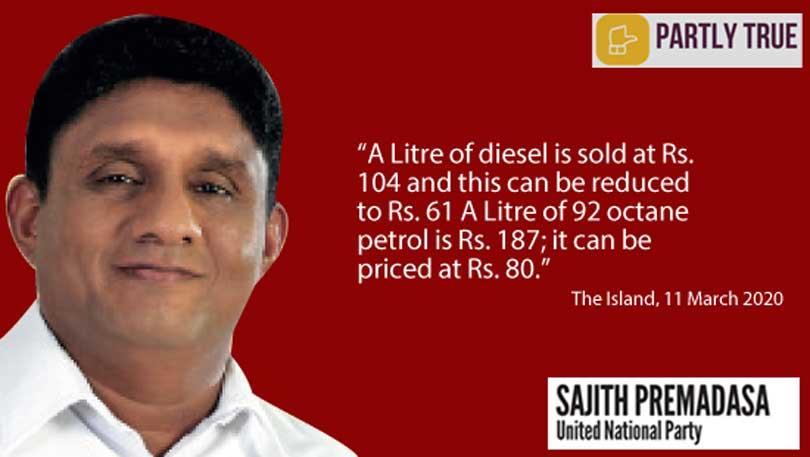 In his statement former Leader of the Opposition Sajith Premadasa claimed that—based on the reduction in global fuel prices—domestic fuel prices could be reduced too and asserted exact new prices for specific fuel products.
FactCheck evaluated this claim in relation to the fuel price formula implemented by the former government. The formula was reverse engineered using aggregated data from Ministry of Finance press releases and other data published by the Central Bank of Sri Lanka (CBSL).
On 10 March 2020, the Singapore Platts price was USD 42.50 per barrel of petrol and USD 44.17 per barrel of diesel and the exchange rate was 181.83 LKR per USD. Using these figures FactCheck estimated the formula price per litre of petrol to be LKR 105 and the MRP per litre of diesel to be LKR 71 – both higher than prices asserted by Premadasa.

However, in addition to reductions in line with the price formula fuel prices could also be reduced by reducing taxes on fuel. The prices asserted by Premadasa could have been achieved with an additional tax reduction of LKR 25 for petrol and LKR 10 for diesel. Even though the prices asserted by Premadasa for Sri Lanka were achievable, they were not the prices that would result simply from the fuel price formula being applied to the drop in world prices of fuel, as suggested by the context of the statement.

Therefore, we classify this statement as PARTLY TRUE.
Exhibit 1: Breakdown of Fuel Price Formula with prices from 10 March 2020
MRP = V 1 + V 2 + V 3 + V 4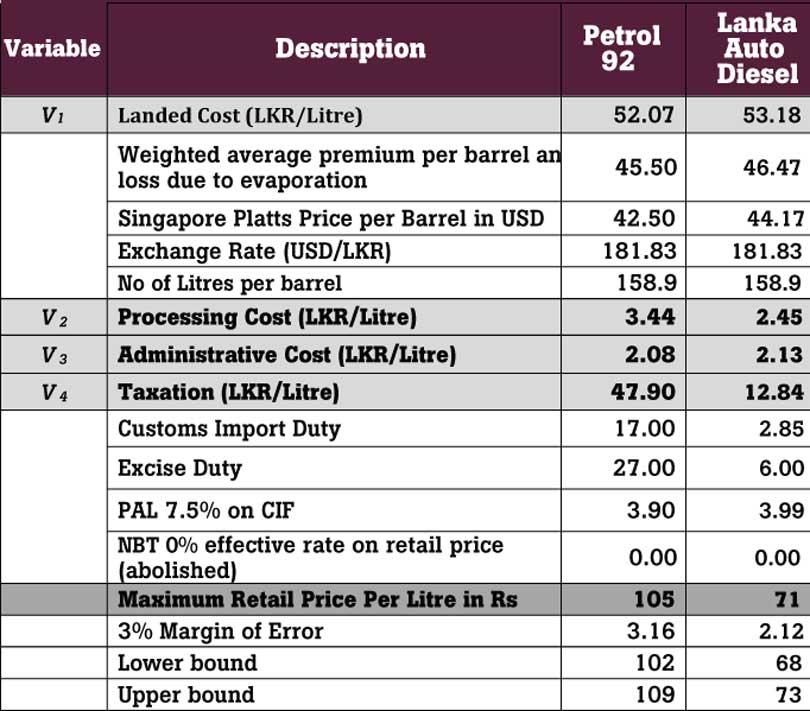 Statement on infographic: A litre of diesel is sold at Rs. 104 and this can be reduced to Rs. 61. A litre of 92 octane petrol is Rs. 137; it can be priced at Rs. 80.
*FactCheck's verdict is based on the most recent information that is publicly accessible. As with every fact check, if new information becomes available, FactCheck will revisit the assessment.
FactCheck is a platform run by Verité Research.
For comments, suggestions and feedback, please visit www.factcheck.lk.