---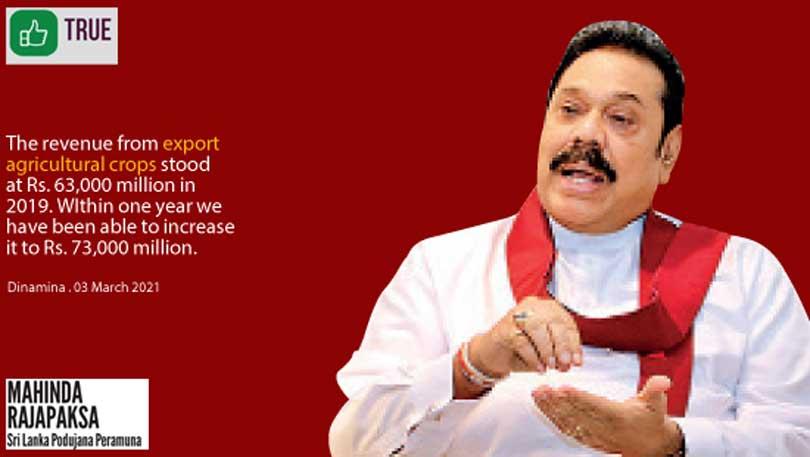 Prime Minister Mahinda Rajapaksa claims that there has been an increase in the exports of export agricultural crops (EACs) during 2020 when compared to 2019. Export Agricultural Crops (EAC) refers to a set of specific crops that are under the purview of the Department of Export Agriculture. These include various spices (cinnamon, pepper, nutmeg etc.), betel leaves, areca nuts, coffee, cocoa and various essential oils.
To assess this claim FactCheck referred to the export statistics for the year 2019 and 2020 for EACs.

As claimed by PM Mahinda Rajapaksa, Sri Lanka's exports of EACs have indeed increased from LKR 63,374 mn in 2019 to LKR 72,851 mn in 2020—an increase of 14.95%. International trade values are originally quoted in USD. Therefore, in order to confirm that the increase in exports of EAC in LKR quoted by the PM is not simply due to the depreciation of the USD between 2019 and 2020, the export values were also assessed in USD terms. It can be observed that even in USD, there was an increase in exports of EACs from USD 354 million to USD 393 million between 2019 and 2020. This is an increase of 11.02%, compared to the 14.95% increase in LKR terms (Exhibit 1).

Statement on infographic: The revenue from export agricultural crops stood at Rs. 63,000 million in 2019. Within one year we have been able to increase it to Rs. 73,000 million.

The increase in LKR terms aligns with the PM's claim. Therefore, we classify his statement as TRUE.

*FactCheck's verdict is based on the most recent information that is publicly accessible. As with every fact check, if new information becomes available, FactCheck will revisit the assessment
FactCheck is a platform run by Verité Research.
For comments, suggestions and feedback, please visit www.factcheck.lk.