---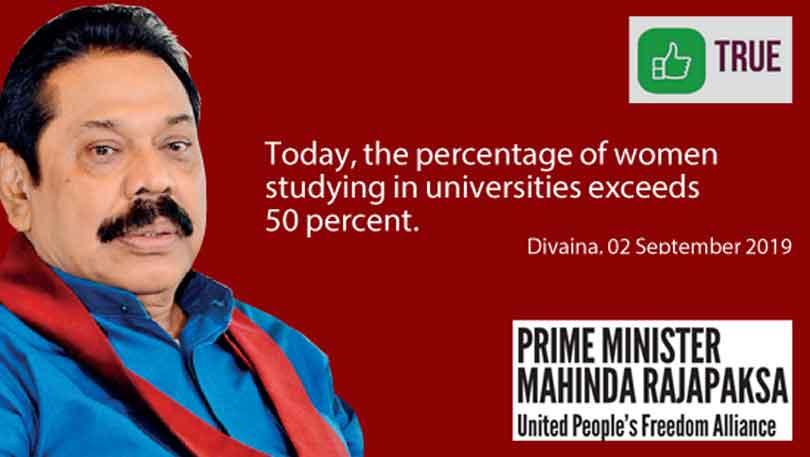 To check this claim, first we consulted the University Grants Commission (UGC) 2018 statistics on undergraduate enrolment in universities and higher educational institutions. This provides statistics only for institutions established under the Universities Act. No. 16 of 1978. There are a number of institutions, both government and private, that don't fall within this Act.
On the UGC statistics, 62,907 of the 97,815 individuals enrolled in higher educational institutions in 2018 were women – that is, 64.3%.

FactCheck was not able to find published statistics on enrolment in universities/higher educational institutions outside the Universities Act. e.g. the General Sir John Kotelawala Defence University (managed by the Ministry of Defence), or the Sri Lanka Institute of Information Technology (privately managed UGC approved degree awarding institution). However, FactCheck attempted to corroborate the UGC statistic using a Labour Force Statistics (LFS) data set. In our analysis of the 2014 LFS data, women accounted for more than 57% of people reporting themselves as enrolled in universities. Despite the absence of a definitive data sources that cover all institutions in 2018, the combination of data points checked allow for the conclusion that the prime minister's claim is correct.

Therefore, we classify the prime minister's statement as TRUE.

*FactCheck's verdict is based on the most recent information that is publicly accessible. As with every fact check, if new information becomes available, FactCheck will revisit the assessment.
FactCheck is a platform run by Verité Research.
For comments, suggestions and feedback, please visit www.factcheck.lk.