---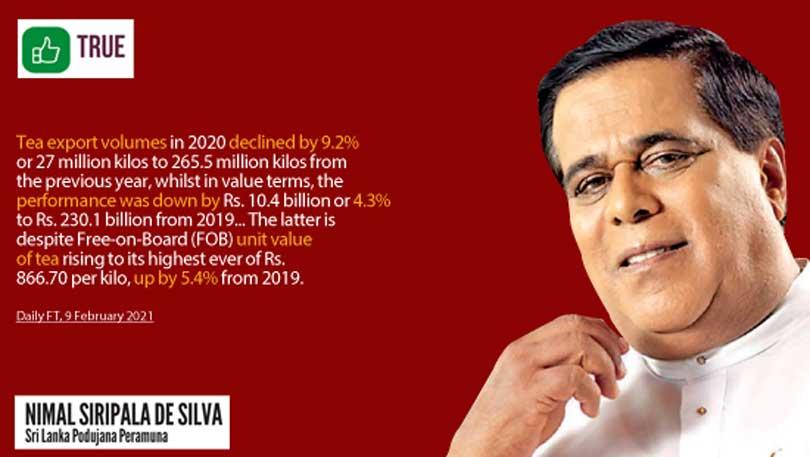 To check this claim, FactCheck consulted data from Sri Lanka's Export Development Board.

The minister claims, with statistics, that (a) the volume of tea exports declined, and (b) the earnings from tea declined, despite (c) the price of tea exports increasing.

On claim (c), the data shows that in 2019, the average FOB value of a kilo of tea exported was LKR 822.25. In 2020, this value increased to LKR 866.72, which is an increase of by 5.4%, as stated by Minister de Silva.

On claim (a), the data shows that the volume of tea exports has decreased from 292.7 million kg in 2019 to 265.6 million kg in 2020. which is a decrease of 9.3% as stated by the minister.
The consequent outcome set out in claim (b) is also correct. Despite the increase in the unit value, the greater decrease in the quantity of tea exported has resulted in decreasing total value of tea exported. The total export value has decreased from LKR 240.6 billion in 2019 to LKR 230.2 billion in 2020, which is 10.4 billion or 4.3%, as stated by the minister.
Since the data aligns with all of Minister de Silva's claims, we classify his statement as TRUE.
*FactCheck's verdict is based on the most recent information that is publicly accessible. As with every fact check, if new information becomes available, FactCheck will revisit the assessment

Exhibit 1: Tea exports (2019 – 2020)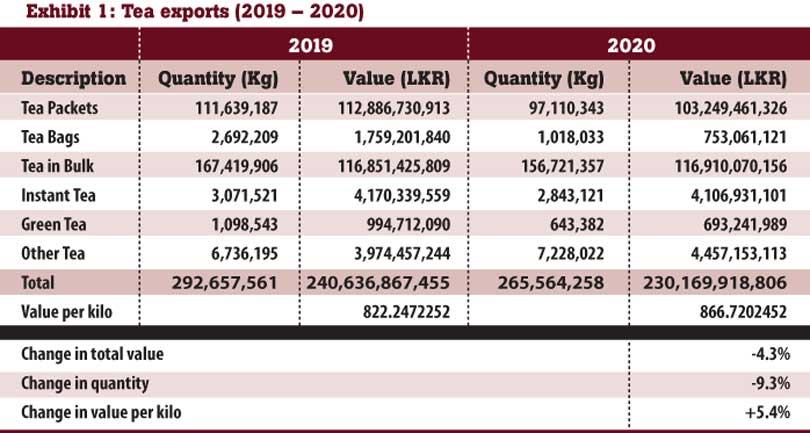 FactCheck is a platform run by Verité Research.
For comments, suggestions and feedback, please visit www.factcheck.lk.