---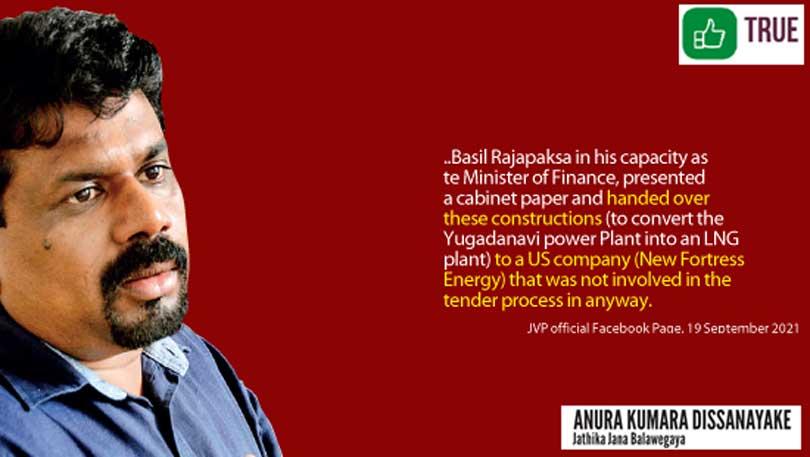 In his statement, the MP claims that as per the Cabinet memorandum presented by Finance Minister Basil Rajapaksa, the Framework Agreement between the government and the New Fortress Energy (NFE) Company resulted in assigning to NFE economic rights that were a part of an ongoing tender process—the integrity and sensibility of which has also been questioned. The tender was to build a Floating Storage Regasification Unit (FSRU), and the pipelines that could supply natural gas to two existing power plants in Sri Lanka.
To check the MP's claim, FactCheck.lk consulted the invitation for tender proposals published by the Ministry of Energy on 18 February 2021 No. B/12/2021, the Cabinet memorandum published by the Ministry of Finance (MoF) MF/PED/11/CM/2021/164 dated 6 September 2021, and other available documents (Cabinet memorandum MF/10/11/CM/2021/128 dated 6 July 2021).

The Cabinet memorandums relate to an investment in shares of West Coast Power (Pvt.) Ltd (WCPL). It additionally mentions details of the Framework Agreement, which also assigns to NFE the right to build an FSRU and the pipelines that could supply natural gas to one of the two power stations mentioned in the tender Invitation No. B/12/2021. Bids for tender Invitation No. B/12/2021 had already been closed on 18 June 2021, and for which NFE had not submitted a bid.

Documents submitted to cabinet also refers to the ongoing tender process. For instance, Paragraph 6.1.1 of the Cabinet memorandum dated 6 September states "…if the announced fixed charge for the FSRU and the Pipelines from the existing tender that is being processed is taken into account". These references to 'an existing tender', make clear the overlap between the tender notice (No. B/12/2021) and the Framework Agreement with NFE. These references also confirm that the MoF was aware of the conflict with the ongoing tender process. The above substantiates the MP's claim that NFE has been awarded, through a non-competitive contract, economic rights that were part of a separate ongoing tender process (albeit a controversial one) in which NFE had not participated.

Therefore, we classify the MP's statement as TRUE.

*FactCheck.lk's verdict is based on the most recent information that is publicly accessible. As with every fact check, if new information becomes available, FactCheck.lk will revisit the assessment.
FactCheck is a platform run by Verité Research.
For comments, suggestions and feedback, please visit www.factcheck.lk.