---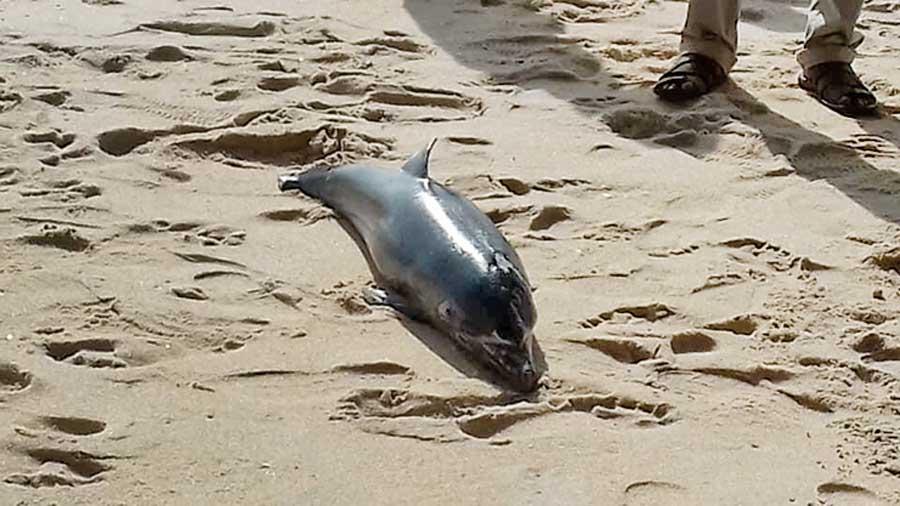 A month after the X-press Pearl inferno, carcasses of approximately 100 sea turtles and 46 cetaceans (aquatic

mammals including dolphins and whales) have washed ashore as at June 24, 2021. Marine experts speculate that many carcasses may remain in the ocean bed and the magnitude of this incident is more intense. Initially when carcasses were found on the beaches, certain marine experts claimed that it was quite normal for turtles to be stranded this way. But the frequency of such incidents escalated to a point that people are now finding it difficult to keep track of the number of carcasses that are being found on the beaches. In this backdrop a thorough investigation is necessary to determine the cause of death. However, speculation is rife whether the authorities are equipped with proper facilities to conduct investigations in the first place.
An unusual phenomenon
One of the reasons given for the large number of carcasses being washed ashore was that it was due to rough seas. When asked about this statement, Conservation Biologist Dr. Ranil P. Nanayakkara, a member of the IUCN/SSC Sirenia Specialist Group and co-Founder/principle scientist at Biodiversity Education and Research (BEaR) said that during rough seas turtles and cetaceans tend to get washed ashore but not to this magnitude. "If you have this many turtles and dolphins washing ashore these animals will become extinct. Therefore it is an unusual phenomenon."
"Sri Lanka doesn't have baseline information to compare how the marine environment was like before the incident happened. Information on ocean currents, the pattern and other details are vital to study the impact of the damage"
"During June, July and August you can see more turtles, dolphins and whales washing ashore but they may have died elsewhere. Initially near-shore species such as humpback dolphins, spinner dolphins were seen but now oceanic species such as dwarf sperm whale carcasses too have been found. This shows that the effect is washing around and spreading to the deeper seas as well.," he added.

He further said that it's difficult to come to a conclusion on the deaths of these marine animals since nobody knows what sort of chemicals were in the ship. "We do know that there was nitric acid but it disintegrates within 3-4 days. Therefore it doesn't accumulate in animals. Definitely there's a respiratory problem when it comes to turtles. If we have the cargo manifest we can come to a conclusion about the deaths of these animals and whether the impact is short term or long term."
Send samples to an accredited laboratory
Certain factions have also raised doubts about the investigations that are being done. "Even though we have the necessary equipment to conduct the tests, they are not working at full capacity," observed Kolita Kamal Jinadasa, senior scientist at National Aquatic Resources Research and Development Agency's (NARA) Analytical Chemistry Laboratory. "Sometimes it is only the equipment that is there but not the chemicals, columns that are needed to run it. On the other hand there aren't many trained personnel to operate these machines. There is no central database to find where these equipment are located."

Speaking further about metal analysis Jinadasa said that it costs around Rs. 12,000 to provide gas to the relevant equipment. "Even though the tests are done, in 95% of the instances the methods that are being carried out are not up to ISO standards. There is a standard to test chemicals on fish, seawater, fresh water, sediment, waste water and so on. If these methods aren't followed the data that we collect could be challenged at an international court. Therefore the best thing to do right now is to conduct these tests or send samples to an independent, accredited laboratory so that we are sure that the data will not be manipulated by any chance."
Too early for predictions?
Wildlife and Forest Conservation Minister C.B. Ratnayake on Monday said that according to the post-mortem reports, the cause of death for turtles was a respiratory issue due to the chemical that was mixed to the water. He said that the Ministry is making arrangements to conduct further investigations and that samples would be sent to a laboratory in Singapore. But according to a source at the DWC who spoke to the Daily Mirror on conditions of anonymity, most animal carcasses are already rotten by the time they reach the laboratories. Therefore they are unable to extract samples and as a result it would take a long time to come to a final conclusion on the cause of death. Fresh tissues are required to conduct histopathology tests but the source said that it is quite a task to find a fresh tissue given the nature of the carcass. Another marine expert who also spoke on conditions of anonymity pointed out that Sri Lanka doesn't have baseline information to compare how the marine environment was like before the incident happened. Information on ocean currents, the pattern and other details are vital to study the impact of the damage. The source said that there has to be details about each and every species but that right now, information is scattered. Samples from animals need to be tested against all chemicals that were there in the ship.