Veterinarian warns of a fatal respiratory disease affecting puppies in THE Central Province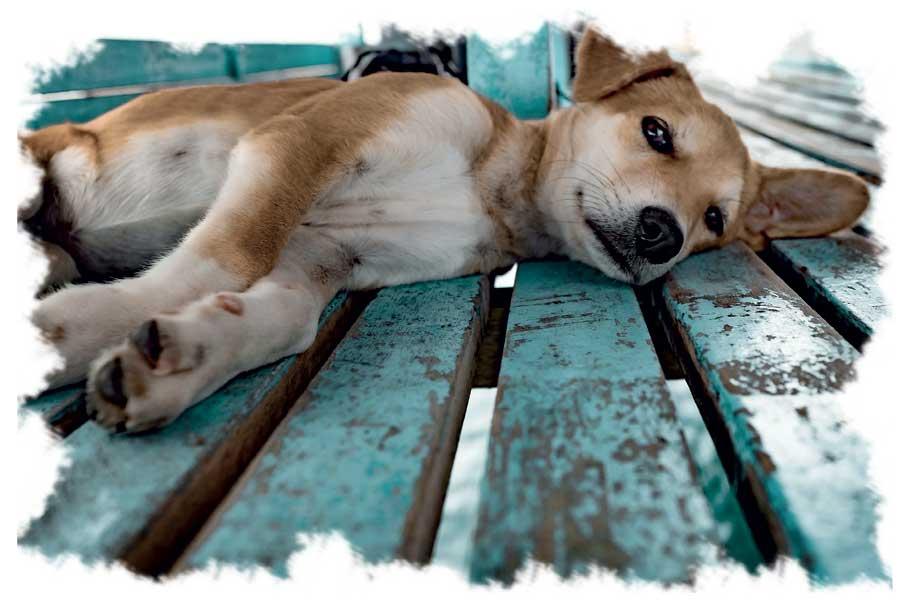 The mysterious disease was first brought to attention of clinicians at the Peradeniya Veterinary Teaching Hospital (VTH) almost 7 years ago
Research is also underway to explore if the disease is linked to a form of COVID
Veterinarians say the disease has been found extensively in Kandy and surrounding areas, including Matale, Gampola, Nawalapitiya, Kegalle, Akurana and Nuwara Eliya
VTH now collaborating with local and foreign Virologists and even Human Respiratory Physicians to find out more
The disease attacks the respiratory system of puppies and has been fatal to most contracting it, in less than 7 days
A mysterious respiratory disease affecting puppies in the Central Province is resulting in the death of nearly all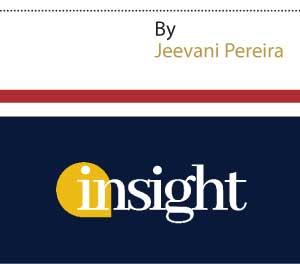 young pups infected by it, according to Nayana Wijayawardhane, Professor in Veterinary Clinical Sciences at the University of Peradeniya.

This fatal disease, mainly affects purebred puppies under 6 months old, but has been seen in crossbreeds and some mongrel pups as well. The illness causes severe damage to a puppy's organs, mainly lungs and heart, resulting in death in less than 7 days if untreated.

This disease, which is suspected to be a syndrome due to multiple factors, has been prevalent mostly in Central Province and was first noted nearly 7 years ago. The Veterinary Teaching Hospital (VTH), University of Peradeniya has seen nearly 100 cases annually since then.

Senior academics and clinicians at the VTH have been studying the disease over the years to determine a cause and find effective medication to treat it, using multiple treatment protocols adopted elsewhere in the world for similar cases. However, the outcome has not been good, probably due to the multi-factorial nature of the disease, Professor Wijayawardhane explained.

"We are yet to determine the exact cause for this," she said. "However, over the years we have been able to better diagnose it and find treatment that helps to relieve symptoms to extend most of their lives for a few weeks and rarely, a month or two."

The professor pointed out that despite the treatment, out of 100 sick puppies they have handled each year, a very few might be lucky enough to survive past two to three weeks. "Even after that, a puppy who survived beyond a month is usually brought back to us with heart disease and eventually dies. It is the issues with the heart and lungs that leads to death so quickly."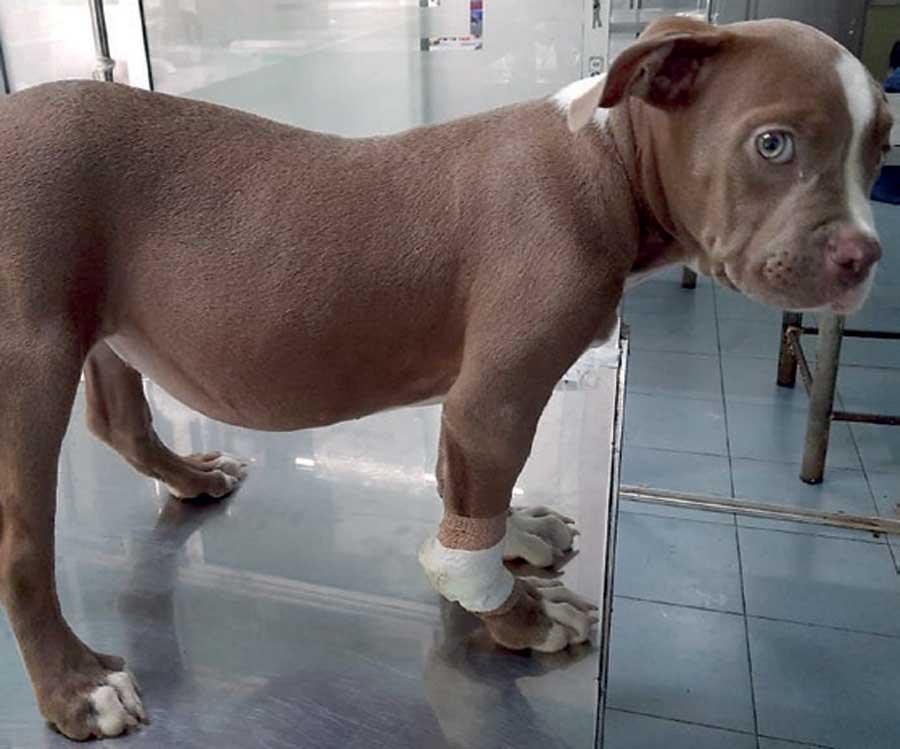 Pup with distended belly diagnosed with the mystery disease
"Researchers looking into possibilit"
The symptoms of an infected puppy include, vomiting and/or diarrhea, followed by difficulty in breathing and ultimately death a few days later. Most of these pups also develop abdominal distention due to gut stasis which further compromises their breathing.

"Most owners do not take the first symptom of vomiting or diarrhea too seriously because it usually just happens once," the Professor said. "By about day 3, the infected puppy will be breathing faster than usual and will sometimes be whining because of breathing difficulties.

"On examining the puppy's lungs at this point, the vet will be able to hear wheezing sounds, quite similar to an asthmatic patient, due to narrowing of smaller air ways and accumulation of fluid inside the lungs, which may later develop into pneumonia," she continued. "After this, owners might notice the animal is not able to sleep properly or would be less active. In severe cases their tongue and gums would appear purple due to the poor oxygenation of their lungs."

Professor Wijayawardhane said that initial treatment was done, believing it to be a Rickettsia organism spread through ticks or a virus. None of which worked at the time in saving the lives of the pups.

"As we have recently discovered, the most severe problem is the acute inflammation in the lungs and we have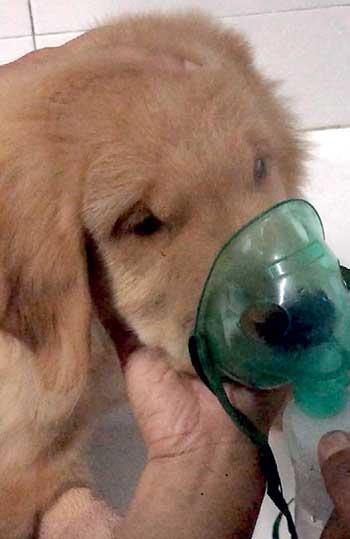 A pup brought in for treatment receiving oxygen as the disease attacks the respiratory system
begun experimenting with anti-inflammatory drugs with high potencies along , with nebulization and oxygen treatment," this has helped in extending the sick puppies' life more than in the past, the Professor said.
She noted that despite the treatment, there was little they could do to prevent the animal from dying even if it was brought to them from the very onset of the disease. "The only thing we can do at the moment is to reduce the amount of suffering and make it as comfortable as possible," she explained.

VTH has now started collaborating with local and international Virologists and even Human Respiratory Physicians to solve the mystery of this fatal puppy disease."Currently we are doing research to see if its related to a form of COVID, too." The professor said, adding that the Vet School at University of Peradeniya is equipped with a lab to pursue this probability.

So far, the disease has only been found extensively in Central Province mainly Kandy and its closer neighbours: Matale, Gampola,Nawalapitiya, Kegalle, Akurana and Nuwara Eliya. However, the prevalence of this disease in other parts of the country is currently unknown.

"We really do not know why this is so prevalent in Central Province, mainly in the Kandy district. We are looking into the fact that it could be due to the weather or environmental pollution, as Kandy is one of the worst polluted cities in Sri Lanka. Also there could be a chance that because of the severity of the illness, and the quick death of the animal, a number of cases do not get reported from other areas," she said.

Professor Wijayawardhane noted that the illness usually appears after each rainy season and spreads for a few months with a silent period in-between. "We mostly see cases come in at least twice a year, usually during the colder months," she said.

She added that while mostly purebred puppies come in sick, other breeds, including mongrel pups have been brought in for treatment with the disease, but in smaller numbers. "We have found that purebreds are more susceptible to diseases in general than mongrels, and it could be the case with this illness too," the professor said.
Furthermore, she said that risk of the disease in puppies above 6 months of age seems to be comparatively low. "It is still a mystery why most purebred puppies below 6 months get the disease; probably it is due to their developing immune systems which make them more susceptible and affects them so badly," she said.

With more research being done on the subject, Professor Wijayawardhane said that it was important that word of the severe respiratory disease be spread, so others will learn to recognize it and report it, and more could be done as a result to save the lives of future animals that get the disease.