Customer complaints galore and companies disapprove incidents where customers are forced to buy other products with milk powder

Practices like 'bundling' have become very common since the onset of the COVID-19 pandemic in Sri Lanka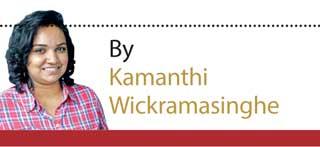 Existing shortages of milk powder and certain other essential items have inconvenienced the public to the point that they are willing to buy products at any cost. But recently, several customers took to social media to make complains that most retailers have forced them to buy other products in order to be 'eligible' to buy milk powder for instance. Although it is said that this is not a new phenomenon and is likely to happen with the prevailing pandemic situation, legal experts claim these practices will have an adverse effect on consumer welfare in the long-run.

Complaints galore
Several customers took to social media, complaining about these incidents. Here's what they shared with the Daily Mirror on our social media platforms :

"Not correct to force customers"
"One Anchor or Raththi Milk powder packet (400g) is sold with four yogurts for Rs. 600. It's happening everywhere now and on FB alone many have offered this. It's not correct to force the customer to buy other products in order to buy what they want." – Mayanthi Jayakody

"Must buy other products"
"Must buy other goods for 2000 then you get two packets of full cream milk powder." – Harshini Fernando

"Milk powder sold like addictive drugs"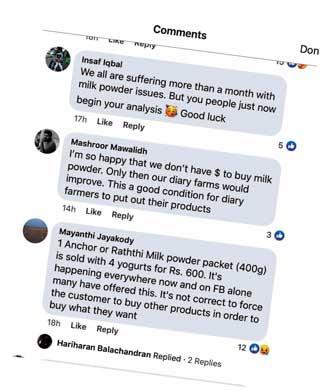 "These days milk powder is sold with other products.They promote other goods with milk powder products while the general public are facing a lot of challenges due to the pandemic and financial difficulties. Selling milk powder has become like selling addictive drugs with the "hide and selling"concept." – Bravo Simons

"Buy two to buy one?"
"Just to get one milk powder I had to buy one Anlene milk powder and two Anchor milk powder packets. The price was 1,350.00 Rs." – Shaleen Samarasinghe

"Minimum order requirements"
"Milco online site permits you to purchase a maximum of two milk powder packets at a time and to meet the minimum order requirement of Rs.1500/- you end up buying other products." – Samanthi Colonne

"Other products should be purchased regardless of brand"
"Nearly 99% of shops in Negombo and Kochchikade area force people to buy other products if they want to buy a pack of milk powder, regardless of the brand." – Tharindu Perera

"Either pay extra or buy additional items"
"It has been a big issue when purchasing milk powder. Either you have to pay extra or buy additional items if you want to get a milk powder packet. On the other hand you can't easily find milk powder either." – Rushda Aroos

"Govt. is keeping quiet"
"The delivery charge and handling fee are more than the price of a packet of milk powder. Those who don't earn a daily wage can only pay for the delivery and not the milk powder packet. Milk powder companies therefore open a black market for products knowing that customers will buy them anyway since they are essential items. The government is allowing these things to happen and is keeping quiet." – Shifna Siraj

Trade promotions, retail schemes, bundled offers disapproved: Fonterra Brands Lanka
Responding to a query on these incidents Fonterra Brands Lanka emphasised that they have not authorised / sanctioned any trade promotions / retail scheme/ bundled offers for full cream milk powder. "We disapprove of the same. The maximum retail price as approved by authorities is printed on the pack. We have consistently communicated to the retail trade to comply with the selling prices approved by the authorities and also comply to the protocols governing the industry." Fonterra Brands Lanka said in a release.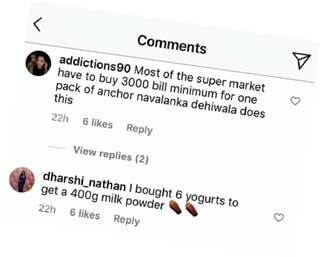 Conditional sales not recommended : Maliban Milk Products (Pvt.) Ltd
"In general most retailers sell products to known people and there may be instances when they opt for conditional sales," opined Asoka Bandara of Maliban Milk Products (Pvt.) Ltd. "There are several issues due to COVID that has resulted in a shortage. But sales persons do an allocation of stocks and if stocks run out there won't be any products to sell. Therefore retailers give products to known people and conditional sales have been happening for various other essential items such as biscuits, sugar, rice and so on. Therefore it's not something new. So far we haven't come across any such incidents, but if we do receive any complaints we will warn retailers. It may be happening, but as a policy we don't recommend such acts as it is unethical." Maliban Milk Products (Pvt.) Ltd said in a release.

Consumer welfare will be affected : Legal expert
In his comments, Attorney-at-law Dr. Thashira Gunatilake who specialises in Competition Law, said that these kinds of practices by sellers are called "bundling". "These practices have become very common since the onset of the COVID-19 pandemic in Sri Lanka. Not only bundling harms consumers, but it also harms the healthy competition in the market. There are many factors to consider prior to deciding the legality of such practices. However, it is generally considered anti-competitive and thus should be closely monitored by relevant authorities. Otherwise, consumer welfare will be adversely affected in the long run, especially, at times like COVID-19." said Dr. Gunatilake.

Options could be given at discounted rates : NMCRP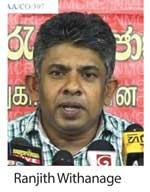 "One reason for promoting yoghurt when purchasing milk powder is because a large quantity of fresh milk is currently going to waste," opined National Movement for Consumer Rights Protection (NMCRP) Chairman Ranjith Withanage. "What we suggest is to give yoghurt at a discounted price because we need to encourage dairy farmers as well. Retailers can make customers aware of this option when purchasing milk powder. It is wrong and illegal to force customers to buy another product when they only want to purchase milk powder. This way both parties will gain and customers won't be inconvenienced." When asked if there were complaints against other essential items Withanage said that most complaints were regarding the purchasing of milk powder.

Incidents unacceptable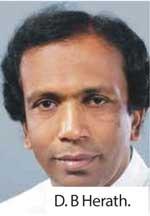 "Certain retailers may be resorting to such conditions as they too are facing many challenges," opined State Minister for Livestock and Farm Promotion, Dairy and Egg related industries D. B Herath. "We are promoting the production of fresh milk and assisting farmers in this task. It is unacceptable if retailers are selling milk powder on certain conditions and inconveniencing customers. We will try our best to mitigate such incidents."
Several attempts made to contact Milco (Pvt) Ltd and Pelwatte Dairy Industries (Pvt.) Ltd proved futile.