Export of conch shells lesser than 70mm in diameter are currently prohibited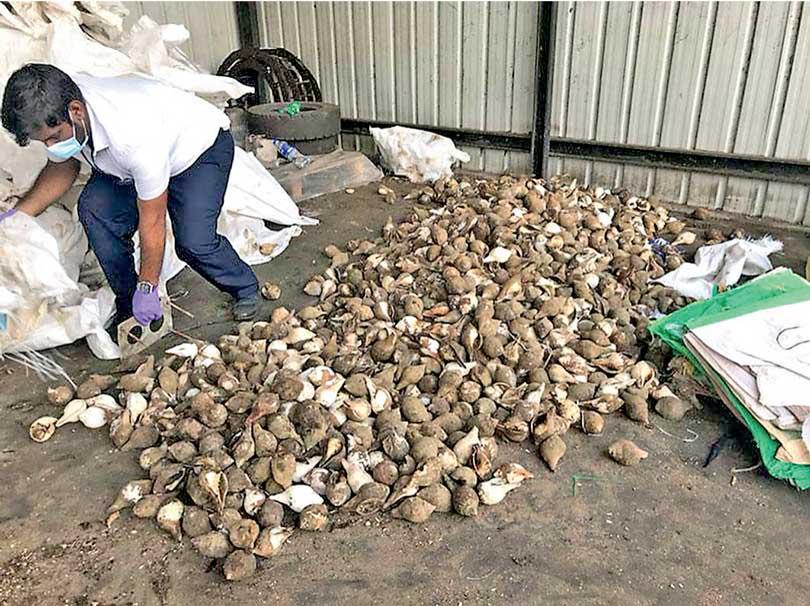 By Chaturanga Samarawickrama
Officers attached to the Biodiversity, Cultural and National Heritage Protection (BCNP) Branch on Tuesday seized a large number of conch shells which had been prepared for export illegally, Customs Media Spokesperson and Deputy Director Sudaththa Silva said.

He said the container was seized based on information received from customs intelligence that an unnamed company in Puttalam was making an attempt to export 21,480 conch shells on June 15. Following two days of investigations (June 20, 21), the customs officers were able to bust the illegal export.

"The exporter had submitted a statement to the Customs officers stating that 20,000 conch shells belonging to the Turbinella pyrum specis , were to be exported to India. The exporter had submitted a valid export licence obtained from the Fisheries and Aquatic Resources Department," he said.

Following customs investigations, the officers found 33,680 conch shells and 21,480 conch shells among the consignment which were lesser than 70mm in diameter which had already been banned from being exported, Mr. Silva said.

In 2003, the Director General of the Fisheries and Aquatic Resources Department issued a special gazette notification (1298/1) prohibiting the export of conch shells lesser than 70mm in size. Accordingly, the order prohibits anyone from possessing, buying, displaying, selling, transporting or exporting shells less than 70 mm in diameter.