Villagers informed Mr.Premadasa that UDA officials had informed them that the 25 acre provided to build houses for the homeless in Mattala was under the Department of Forest Reserves and construction of houses cannot be allowed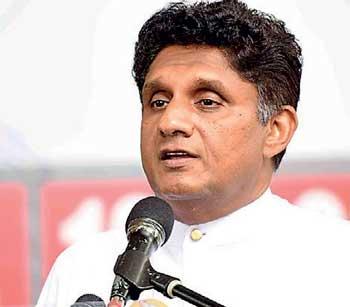 By Yohan Perera
Leader of Opposition Sajith Premadasa is in for a legal battle against the UDA after the latter had claimed that the transfer of land made to people under the Mattala Uda Gammana ( Reawakened villages) was illegal.
Mr. Premadasa told the recipients of the land over the weekend that he will file a fundamental rights petitions against the move by the UDA to reacquire the land from the Uda Gammana recipients. He came out with this when the recipients requested him to resolve the issue.

The villagers have informed Mr. Premadasa that UDA officials who visited them had informed them that the 25 acre land provided to build houses for the homeless in Mattala is under the Department of Forest Reserves and therefore construction of houses cannot be allowed. "I will not allow anyone to take over these lands and I will file fundamental rights cases against the UDA to save each plot of land. " Take videos of these officers when they visit you again and hand me the clips and I will do the rest," he told the villagers.

"These lands have been provided to you legally from the Housing Ministry and you have obtained loans to construct houses from a state bank. Will a State Bank Provide loans to construct in illegal lands.? "
he questioned.