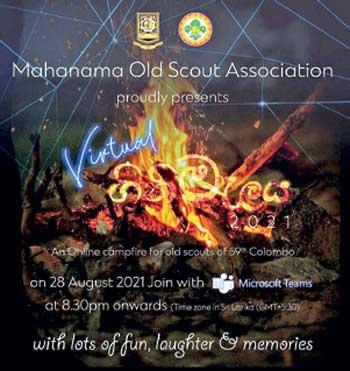 Old scouts from 59th Colombo Scout Group of the Mahanama College recently held a "Virtual ගිනිමැලය 2021" an online campfire event on August 28th, which was a novel experience for most of the participants.

The event flagged by adhering to campfire rituals with campfire anthem, following the scout pledge read by Ex-group scout leader Mrs.P. Kumarasinghe. During the event old scouts cherished their past experiences with each other and several entertainment events including scout songs and yells.

Ex-group scout leader Mrs.P. Kumarasinghe, Ex-Master in Charge Mr. Upali Smarakoon, Present Scout Master Mr.Sanjeewa Erathna, Present Master in charge Mr. Ranjith Senarathna Former Troop leaders, former scout leaders and over 100 of Mahanama scouts around the globe took part in the event.

Mahanama College Scout Troop has produced many president scouts to the nation and it is one of the leading troops in the country with 150 scouts at present .