Expresses his gratitude for calling off street protests
He said he would not change his stance in calling certain striking teachers and principals as a miserable lot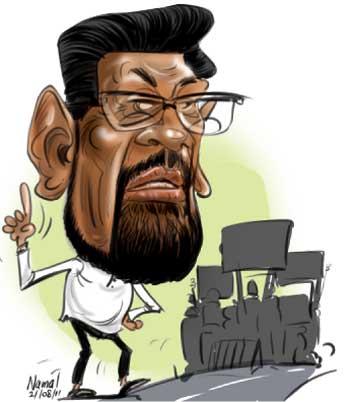 By Sandun A Jayasekera
If the teacher Trade Unions did not call off the trade union action at public places, there was a possibility that the public would have attacked them, Cabinet Spokesman and Mass Media Minister Keheliya Rambukwella said.
He said so while expressing his gratitude and appreciation to some of the teacher trade unions for suspending street protests on account of the fast spreading Covid- 19 pandemic

Minister Rambukwella, responding to a journalist at yesterday's post Cabinet news briefing said he would not change his stance in calling certain striking teachers and principals as a miserable lot.

"The government of President Gotabaya Rajapaksa is committed to resolve the salary anomalies and service related shortcomings of teachers and principals. The Cabinet has decided to find a sustainable and quick solution to the issue within a given time frame. The government is also ready to meet their demands of declaring the teachers service as a 'Closed Service and an upward revision of salaries. But the government needs time to do that as the economy is in dire straits with all state revenues depleted drastically in the aftermath of the pandemic," Minister Rambukwell stressed.

"The four- member Cabinet subcommittee comprising, Ministers Dulles Alahapperuma, Mahinda Amaraweera, Wimal Weerawansa and Prasanna Ranatunga appointed on Monday will go deep into the demands and discuss them with all stakeholders to the issue before it submits a report outlining the quick and permanent solution to the issue during the next Cabinet meeting to be held on coming Monday," Minister Rambukwella said.

Minister Rambukwella gave a detailed account on how all successive governments since 1994 failed to find a solution to service and salary issues of the teachers and principals after late Education Minister Richard Pathirana was able to obtain Cabinet approval for his policy document that recommended a fair pay hike and a pragmatic service and promotion structure for the government teachers. However, the B.C Perera Commission, Lionel Fernando Salary Review Commission and various other committees that reviewed the salaries of public servants too had failed to pay attention to the proposals of Minister Pathirana and the problem created from that shortcoming had dragged for nearly 25 years. In addition, the Salaries and Cadre Commission had also opposed a separate salary increase for the teachers.
All successive governments since 1994 failed to find a solution to service and salary issues of the teachers and principals
The government of President Gotabaya Rajapaksa is committed to resolve the salary anomalies and service related shortcomings of teachers and principals