This new syndrome is now reported among adults as well
If children develop symptoms such as fever, abdominal pain, fatigue, vomiting, diarrhoea, bloodshot eyes, and skin rash they should be immediately admitted to a Hospital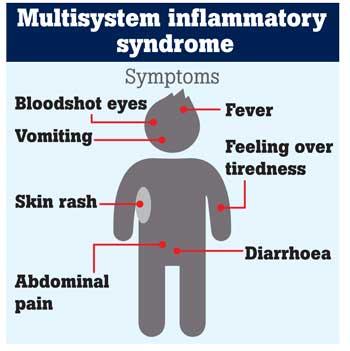 By Ajith Siriwardana
A total of 34 children have been infected with the post-covid syndrome called Multisystem inflammatory syndrome in children so far in Sri Lanka and five such children were receiving treatment at the Intensive Care Unit of the Lady Ridgeway Hospital at present, a medical specialist said yesterday.
Consultant in charge of the Intensive Care Unit of the Lady Ridgeway Hospital Pediatrician Dr. Nalin Kithulwatta said 21 out of the 34 children who were infected with the syndrome have been reported from the Lady Ridgeway Hospital while six cases have been reported from the Karapitiya Hospital and four cases from the Kandy National Hospital.

"The disease has now been spread to other areas where patients have been reported from Jaffna, Diyathalawa, Kurunegala and Badulla areas," he said.

Dr.Kithulwatta said children, who were infected with any Covid variant, could be infected with this Multisystem inflammatory syndrome two to six weeks after recovery from Covid.

He said two percent of the children infected with this syndrome could die and added that if they were brought to a Hospital at the proper time, they could be cured.

"If children develop symptoms such as fever, abdominal pain, feeling extra tired, vomiting, diarrhoea,bloodshot eyes and skin rash should be immediately admitted to a Hospital. This is a treatable disease," he said.
Dr.Kithulwatta said this new syndrome was now reported among adults as well where two such persons in their 40s have succumbed to the disease at the Balapitiya Hospital.

He said adults could develop this syndrome with Covid-19 symptoms and an acute abdominal pain. "We suspect that this syndrome is spreading among adults in Sri Lanka," he said.
Two percent of the children infected with this syndrome could die and added that if they were brought to a Hospital at the proper time, they could be cured
Two persons in their 40s have succumbed to the disease at the Balapitiya Hospital