Minister Weerasekera accused the Field Marshal of betraying the nation by stating that release of Ratnayake was wrong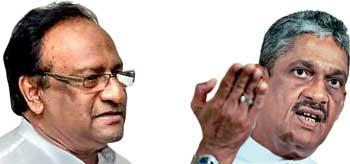 By Yohan Perera and Ajith Siriwardana
Sarath vs Sarath showdown was witnessed in Parliament yesterday when Minister of Public Security and Field Marshal Sarath Fonseka were engaged in a show down with regard to the recent release of Military officer Sunil Ratnayake.
Minister Weerasekera accused the Field Marshal of betraying the nation by stating that release of Ratnayake was wrong.
"Field Marshal Fonseka has betrayed the nation through his remarks," the Minister said.
"Military officers cannot commit murders. It is a disgrace for your uniform if you think that way," Fonseka said. "Field Marshal Fonseka is talking after accepting dollars from the Tamil diaspora.

"We don't do that kind of low (thuttu deke) acts. It was Minister Weerasekera who brought dollars from Geneva," Field Marshal Fonseka replied.

"It was Fonseka who said Sri Lankan security forces killed those who came with white flags. He said this to journalist Fredrica Jansz.," the Minister then said. "It was Minister Weerasekera who said the 12,000 LTTE cadres who surrendered should have been killed.

It is because of these statements that the whole world has gone against us. It is we who were at the battle front."
"Fonseka does not know that I was one of the few who were at the front of the battle field and was honoured.
Besides Sunil Ratnayake was also at the forefront and fought hard for the country," Minister replied.
Fonseka does not know that I was one of the few who were at the front of the battle field and was honoured