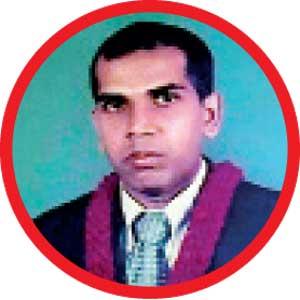 By Pushpakumara Mallawarachchi and Tilakaratne Dissanayake
Diyawadanage Priyantha Kumara (49) who had been burnt to death allegedly by a group of fanatics in Pakistan has sent a shock wave across the Ganemulla area.
His relatives requested the government to hold a formal investigation with the Pakistani authorities and to do justice to the victim. His wife Nilushi Dissanayake who was still to recover from the shock and the trauma of the news of her husband's tragic death gathered all her courage and told the media that her husband often called her over the phone but never complained about any problem or enemies and that she expected the government to do justice to him. She said that her husband was in the habit of visiting the family once every six months but he had been prevented from his usual trip to Sri Lanka due to the Corona pandemic. She requested the government to make arrangements for at least the remains of her husband's charred body to be flown to Sri Lanka.

White flags and buntings were flying in every nook and corner of the area and everyone condemned the brutal killing of the Sri Lankan Engineer.