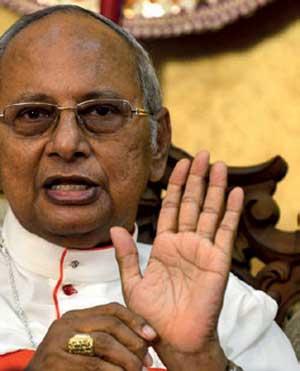 By Yohan Perera
The spread of COVID-19 could have been caused by an accident in a laboratory by someone who was making an effort to make lifestyles easier, Colombo's Archbishop Malcolm Cardinal Ranjith said yesterday.
He said suffering was the path to happiness, and the people should realise this. During his Good Friday service sermon, the Cardinal said Covid-19 could be a result of the effort people put in today to make lives easier through science.

"Covid-19 could have been caused by someone who tried to create some product to make lives easier like the way things are done today."
"People including Christians have forgotten that suffering is part and parcel of Christian life. This is why science is used extensively to produce things such as genetically modified food" the cardinal said.

"People including some who have been infected by COVID-19 are acting in a selfish manner. They don't follow advice given to them and go about freely," he added.