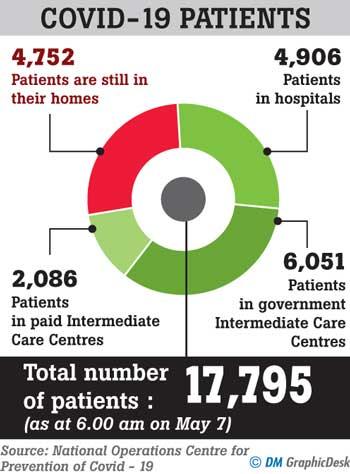 By Darshana Sanjeewa Balasuriya
More than 4,000 COVID-19 infected patients were still in their homes as of yesterday due to the shortage of beds at treatment centres or hospitals across the country.
According to the National Operation Centre for Prevention of Covid-19 Outbreak (NOCPCO), the total number of Covid-19 cases in the country stands at 17,795 as of last morning.

However, only 13,043 COVID-19 patients are undergoing treatment in hospitals, government managed or paid Intermediate Care Centres (ICC).

Accordingly, 4,752 COVID-19 patients were to be moved to hospitals or treatment centres.
The NOCPCO said that a total of 4,906 patients are undergoing treatment at 43 hospitals while 6,051 patients are undergoing treatment in 19 government Intermediate Care Centres and another 2,086 patients are at 13 paid ICCs. Army Commander General Shavendra Silva earlier said that they had assembled over 2,500 beds and are aiming to provide another 5,000 beds within the next three or four days to treat the Covid patients. Meanwhile, a total of 1,895 cases were reported on Thursday. Among them, 326 cases were identified in the Colombo District, 309 in Kalutara District and 279 patients were in the Gampaha Districts.

By last morning, 119,423 persons were confirmed COVID-19 positive in the country and 100,885 of them had recovered and left hospitals and care centres.

As of yesterday morning, 6,705 persons in 74 tri service-managed QCs are still in quarantine.