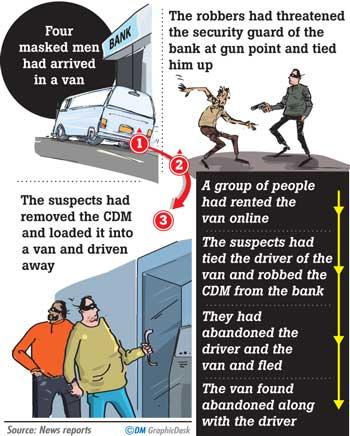 By Darshana Sanjeewa Balasuriya and Suranga Rajanayaka
Several police teams were deployed after a Cash Deposit Machine (CDM) of a private bank in Gampola on the Gampola-Kandy main road was removed by a group of robbers along with around Rs. 8 million in cash on Tuesday night.
Police said four masked men had arrived in a van, tied up the banks security guard at gun point and removed the CDM. It was revealed that along with the subject private bank, two other private banks were also located in the vicinity and the security guards of these banks had been on duty during the incident. The robbers had threatened the security guard at gun point and tied him up. The security guard told police that the suspects had removed the CDM and loaded it into a van and driven away. Police said the security guard managed to untie himself and rung the bank's emergency signal and written down the number of the van.
---
---