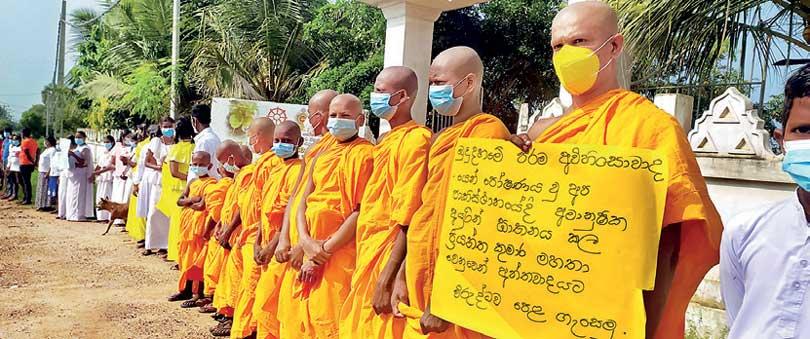 By Hiran Priyankara Jayasinghe
Residents of Kalpitiya yesterday staged a protest in front of the Daluwa Anthar Samudra Vihara demanding justice to Engr. Priyantha Kumara who had been burnt to death in Pakistan and to provide adequate protection to other Sri Lankan expatriates in that country.
The Mahasangha including Chief Incumbent of the temple and President of the Kalpitiya Sasanarakshaka Bala Mandala Ven.Migettuwatte Sumitta Thera and Dhamma school pupils and teachers joined the protest.
Ven.Sumitta Thera who strongly criticized the merciless killing of the Sri Lankan Engineer said the civilized world would not tolerate the brutalities of extremists.

He commended the decision taken by the Pakistani President to hold a formal investigation and to bring the culprits to book.