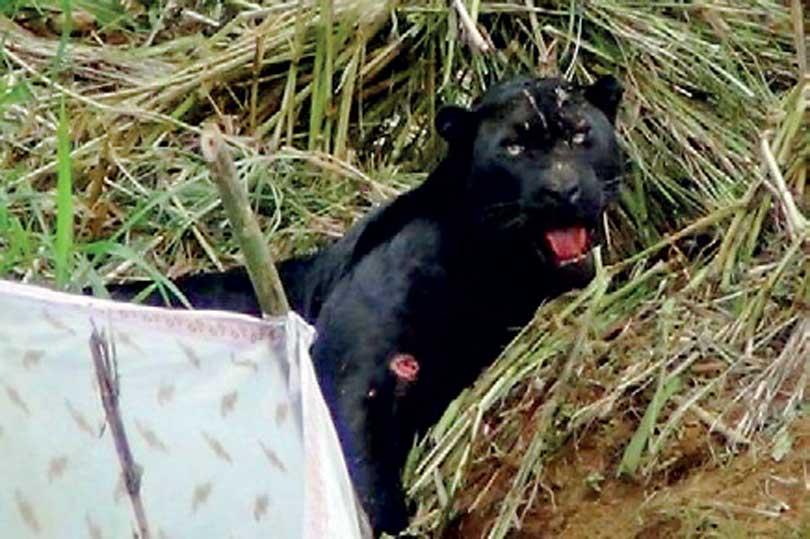 Postmortem examination pending
Low count of black leopards except a few sightings
Snare traps are illegal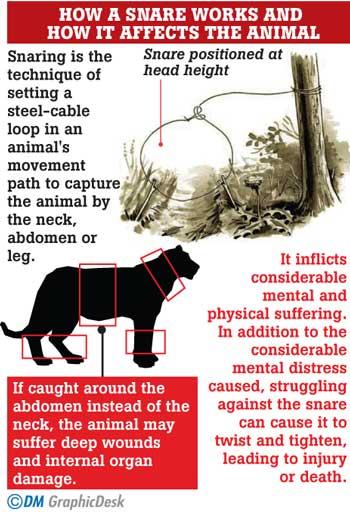 By Kamanthi Wickramasinghe
Snare traps that are being laid to save vegetable plots from attacks by wild boar and other animals have become life threatening to leopards, especially in the Central Highlands.

So far, four such incidents were reported with the recent death of a rare black leopard being the second such incident during rescue. Except for several sightings, there have been no official count of black leopards in the island. However, conservationists and wildlife experts are calling for a total ban on snare traps while requesting for stricter laws to be drafted on banning snares. The recent incident underscores the urgent need for such laws to be given priority.

Postmortem pending

"The noose was around the leopard's neck and therefore we didn't release it," said Dr. Tharaka Prasad, Director-Wildlife Health at the Department of Wildlife Conservation. "Just below the neck is the oesophagus and trachea. During the rescue we noticed a haematoma (blood clot) building up. Apart from that its fore-legs and face had bruises. So if we released it and it died afterwards people would have blamed us for negligence. But even during the rescue we noticed that it was suffering from severe internal shock. Once we put it into the cage we didn't allow any visitors because it was under stress. However the complications grew though it was taking food and water. By yesterday (May 29) morning, we noticed that it had become less aggressive and was given a drip. However, it died at around 10.45am. We also requested a team from Peradeniya University to examine the leopard and conduct a postmortem examination after obtaining a court order."
When asked about rescue protocols, Dr. Prasad said they always take the animal to a place in close proximity. "We travel a minimum distance of a minimum duration and this made the Udawalawa Elephant Transit Home the closest destination. We do have resources to rescue animals including a fully-covered cage. We have enough vets to be deployed but because several of these incidents have been frequently happening in the Central Highlands, suggestions have been made to setup another veterinary office apart from the Randenigala office."
With reference to the purpose of laying snare traps, Dr. Prasad said people lay snares to protect food crops from wild boar. "It's not meant for leopards. The place where this black leopard was rescued also had a vegetable plot. But when it comes to tea estates, it's the people who lay the traps and most of these cases go unreported," he said.
We travel a minimum distance of a minimum duration and this made the Udawalawa Elephant Transit Home the closest destination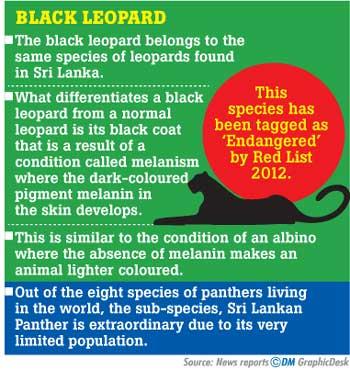 Snares should be made illegal

Speaking to the Daily Mirror, Anjali Watson, co-Founder and managing trustee of the Wilderness and Wildlife Conservation Trust (WWCT) having extensively studied leopard behaviour in Sri Lanka said the number of such incidents are on the rise. "The black leopard was found near a brand new vegetable plot. This is because at the onset of the curfew people started going home and because they don't have access to food, new vegetable plots have sprung up," Ms. Watson said.

Speaking about the estate sector, she said there has been a positive response to appeals made by WWCT requesting estate managements to stop people from laying snare traps. "Therefore we need to work together and educate people. Authorities such as the Police and DWC need to be supported to prosecute the perpetrators. But I see several grey areas that need to be fixed," she said. When asked about the count of black leopards, Ms. Watson said there had been no official count except for several sightings. "Any black leopard is a rare species except in Peninsular Malaysia where black leopards are commonly sighted. However, snares are indiscriminate and therefore can kill any animal, either protected or not. This is clearly seen as a case of incidental killing of leopards by snares. Hence they should be made illegal," she said.

The Daily Mirror also learnt that several police officers have given the go-ahead to people to lay snares. But when inquired, Nallathanniya Police Chief Inspector Laksiri Fernando denied such allegations. "Laying snares is illegal and we have never given permission to people to lay traps," he said.

A matter of not following existing protocols

Conservationists also identify lapses in following established protocols. "Three years ago, Dr. Vidya Athreya, an Indian researcher studying the human- leopard conflict in India visited Sri Lanka and developed rescue protocols from her own experiences," said Rukshan Jayawardene, President, Wildlife and Nature Protection Society. "Thereafter two local researchers Dr. Andrew Kittle and Anjali Watson adopted it to suit Sri Lankan conditions. It was translated to Sinhala and perhaps Tamil and the document exists in translation. But it seems that nobody has followed it. It's quite a comprehensive document explaining the roles of the DWC, Police and other law enforcement authorities. By not following protocol it's a waste of everybody's time and money," he said.

Mr. Jayawardene said snare traps are illegal but the government and government agencies seem to have turned a blind eye. "The DWC is the legally appointed body to enforce laws to prosecute people who have laid snares, find out who produce wire snares and who's benefitting from it. I'm not blaming anybody but higher authorities such as the Cabinet and even the President should now focus on this problem," he said.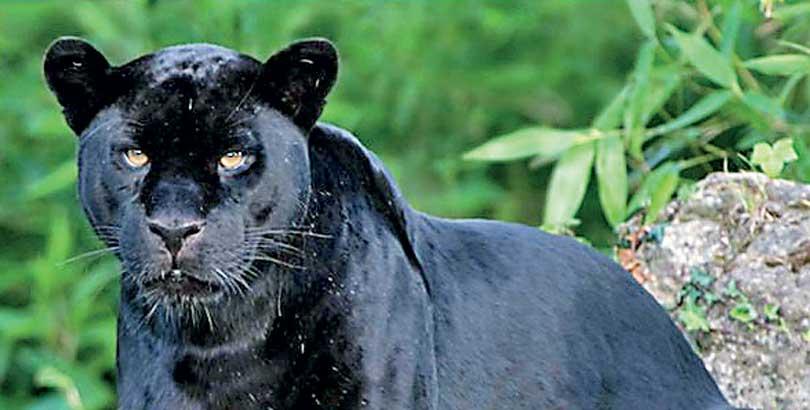 Legal loopholes

According to Section 30 of the Flora and Fauna Protection Ordinance, it is illegal to kill or injure a protected species. "It is also illegal to lay snares in protected areas," said environmental lawyer Jagath Gunawardena. "However, the fines depend on the species. When the accused was questioned he had said that his intention was not to harm the leopard. But the intention is not reflected in the action."
Any black leopard is a rare species except in Peninsular Malaysia where black leopards are commonly sighted
The DWC is the legally appointed body to enforce laws to prosecute people who have laid snares, find out who produce wire snares and who's benefitting from it