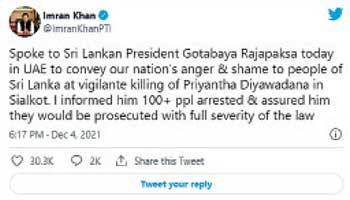 Pakistan Prime Minister Imran Khan on Sunday announced that the man who tried saving the Sri Lankan national during the recent lynching incident will be awarded the Tamgha i Shujaat — the second-highest civil award for bravery bestowed by the Islamic Republic of Pakistan.
In a Twitter message, the Pakistani Prime Minister said he salutes Malik Adnan who
tried his utmost to shelter and save Priyantha Diyawadana from the vigilante mob endangering his own life.
Earlier, he spoke to President Gotabaya Rajapaksa to convey his country's anger and shame to the people of Sri Lanka.