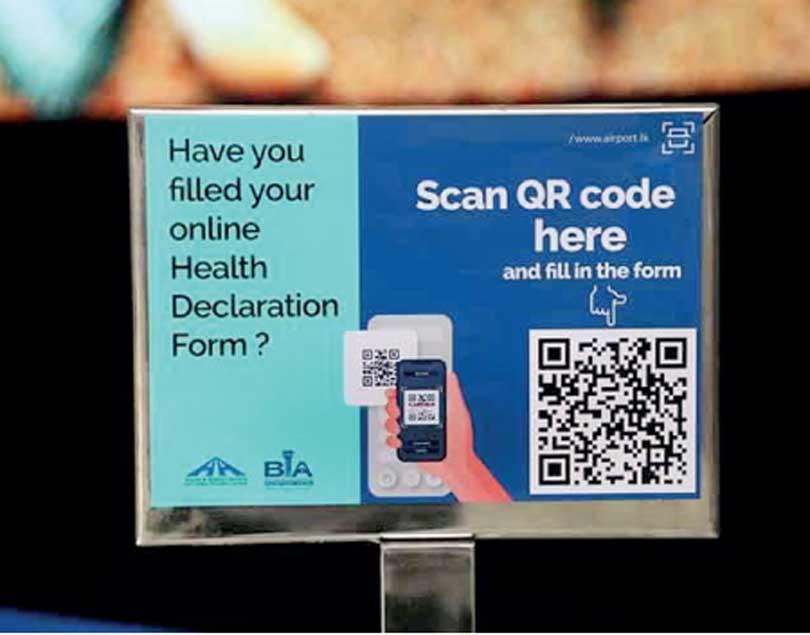 Passengers who visit Sri Lanka can provide their details upon arrival or after reaching the Katunayake Airport by accessing this system through the following link at www.airport.lk via https://www.airport.lk/health_declaration/index.
Passengers can upload the details pertaining to them by accessing the QR code which are on display at the arrival lounge
By Chaturanga Samarawickrama and T.K.G Kapila
A new on-line system was introduced yesterday at the Bandaranaike International Airport (BIA) to allow arriving passengers to exit the airport within 20 seconds.
The on-line system was launched at the airport by the Civil Aviation and Export Zone Development State Minister, D.V. Chanaka.

The State Minister after introducing the system addressed the media said that it was because of the COVID pandemic spreading across the world, passengers arriving at the airport were required to report to health officials causing delay.

"According to this new on-line system, time has been reduced to 20 seconds," the State Minister said.

"Passengers who visit Sri Lanka can provide their details upon arrival or after reaching the Katunayake Airport by accessing this system through the following link at www.airport.lk via https://www.airport.lk/health_declaration/index.

Passengers can upload the details pertaining to them by accessing the QR code which are on display at the arrival lounge.

Accordingly, their vaccine proof card and the result of the PCR test done 72 hours prior to their arrival in Sri Lanka should be submitted on-line under this system. This eliminates the need for passengers to languish in the queues, attending to plenty of paperwork, or transmit information using other devices.

This new system allows passengers to exit the airport within 20 seconds, minimizing the risk of getting Covid infected.

Also, the security guards who are on duty at the exit gate of the airport can present these facts through this methodology and these passengers will be able to leave the airport quickly.
The State Minister also said that the Katunayake Airport will be fully digitized by April 2022.
This eliminates the need for passengers to languish in the queues, attending to plenty of paperwork, or transmit information using other devices