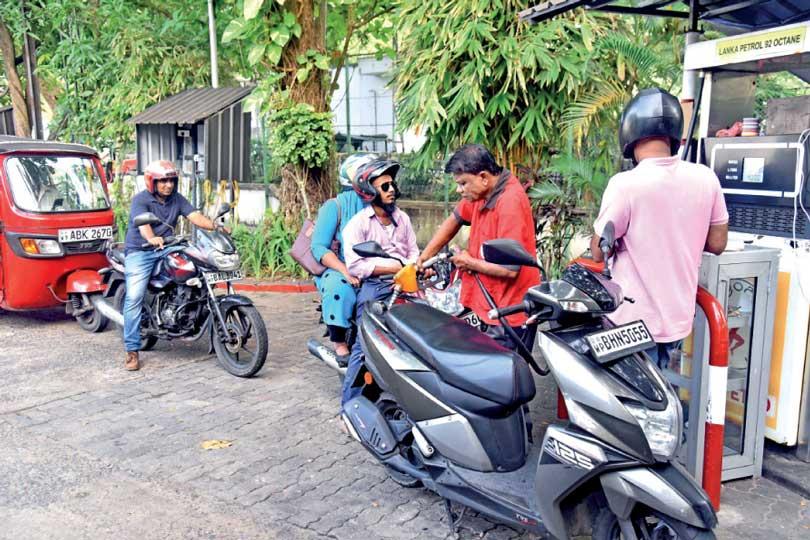 Pic by Pradeep Pathirana
CPC Trade Unions were sternly against privatizing the CPC and as they did not receive any positive response from the Minister, they had stopped fuel distribution to "make their voices heard"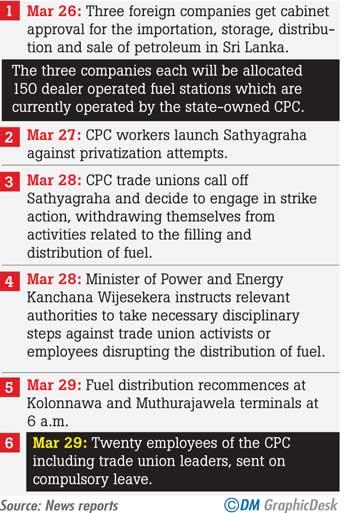 By Chaturanga Pradeep Samarawickrama
The Ceylon Petroleum Corporation Trade Unions yesterday blamed the government of state-sponsored terrorism while millions of people were affected by their sudden decision to withdraw from fuel distribution opposing the government's plan to privatize the CPC.
CPC General Employees Union President Ashoka Ranwala told Daily Mirror that their trade union action was a success even as the Minister of Power and Energy Kanchana Wijesekara sent 20 TU leaders and CPC workers on compulsory leave for hampering the work of the CPC.

Ranwala even went as far as to allege that when Ranil Wickremesinghe was in the post of prime minister, the CPC was in danger and it was now the same after Wickremesinghe was sworn in as the President.

He said the CPC Trade Unions were sternly against privatizing the CPC and as they did not receive any positive response from the Minister they had stopped fuel distribution to "make their voices heard".

As angry consumers started lining up outside fuel stations following the strike launched by the CPC Trade Union workers yesterday, the armed forces stepped in to allow those workers who wished to carry out their duties to continue with the fuel distribution. However, the Trade Unions were quick to respond to this action calling it state-sponsored terrorism, and alleged that CPC workers were forced to work against their will.

In order to avoid panic amongst angry citizens, Minister Wijesekara yesterday, in a hurriedly convened press conference said the trade union leaders who obstructed the duties of other workers and those who supported them will be sent on compulsory leave and the government had decided to take maximum disciplinary and legal action against them.
He said the names of 20 individuals, including candidates contesting the local government election and several union leaders, have been listed on the list.

"We cannot remove them from the service at once. After the investigations, a charge sheet would be issued against them. then suitable action will be taken," the minister said.
The trade union leaders and their supporters were suspended from entering the Ceylon Petroleum Corporation (CPC) premises and the Ceylon Petroleum Storage Terminals Limited (CPSTL) warehouse terminal service premises and had declared the areas as prohibited zones. The other employees were asked to report to work yesterday.

According to reports of the current investigation, it was reported that most of them were involved in attempting to damage fuel pipelines and the distribution control panel, the Minister said.

Accordingly, action will be taken against the said individuals without considering their respective positions, the minister said.
They will be charged with violating the Essential Services Act.
CPC General Employees Union President Ashoka Ranwala told Daily Mirror that their trade union action was a success
---
---