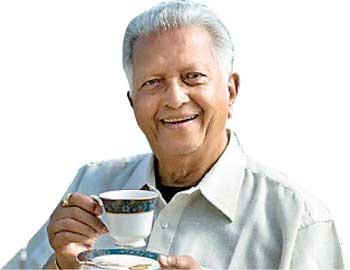 The founder of Dilmah Tea, Merrill J. Fernando, passing away on July 20 (Thursday) leaves a 'thirst' in those connected with the tea industry and people who cherish this beverage to know more about this man. He was 93 years old when death put out this 'flame in the tea business' who till then kept the industry going.

We already know much about Dilmah Tea and its wide assortment of products ranging from tea bags to tea formats; all done to meet the company's concept of 'Single Origin Tea'. But there is an inspiring story about Merrill which is refreshing as his teas!

He was a lad from Negombo and like most people from the outstations his dream was to find his fortune in Colombo. He took to tea tasting at a young age and at a time when such jobs in tea were not open for locals. With the penchant for business running in his blood he quickly identified the ailment with Ceylon's tea business under British rule. Though the island was making its own tea the country's tea brands didn't authentically represent Sri Lanka and its people. Merrill changed that by introducing his 'Single Origin Tea' concept in 1988, which helped the customer know what is inside the tea bag. For the record, Dilmah Tea was established by Merrill in 1985.

He also changed the destiny of workers in the tea industry by introducing the thinking that business can be made a matter of human service. As a matter of policy, the Dilmah hierarchy ensures that workers are respected and enjoy healthy working conditions. All that could be made possible when Merrill expanded his business and Dilmah Tea grew here and abroad as a brand known in over 100 countries. In the biography titled 'The story of Ceylon Teamaker' the founder of Dilmah Tea allows readers a glimpse into his soul and touches quite frankly on the industry's progress and failures. This frankness and honesty are perhaps the qualities that helped the man grow as a businessman and put this Sri Lankan brand on the world map of tea.
In the book it is said how this man portrayed himself as disruptor, teamaker and servant and took Sri Lanka's tea to the world and made it an industry that directly benefitted its people. Till then the British influence was present in our tea business and the arrival of Dilmah put an end to Sri Lankan tea being subject to exploitation by foreign entities. Largely due to his thinking and efforts the global beverage market now gets to taste Sri Lanka's best teas; thanks to this company taking to the world the finesse of undiluted pristine tea. Dilmah Tea produces a mammoth 25 million kilograms of tea annually, apart from being involved in the rubber industry too.

Dilmah Tea supports itself on six operational pillars which are integrity, tradition, quality, the customer, ethics and sustainability. If one digs deeper into the company's pillar called 'integrity' the concept of single origin stands out. It's inspiring how Dilmah promotes this vision and further delving into it we can find interrelated concepts like single region and single estate; all done to keep the customer educated about intricate details of what goodness has gone into the product and the geography associated with taste or flavour.

As his teas grew in quality and stature so did Merrill. He was bestowed with many titles and honours; the Deshamanya State title awarded to him in 2019 standing out among everything else. He was also honoured as an 'Oslo Business for Peace Honoree' in 2015 and by 'World Chefs' with a lifetime achievement award in 2018. He was voted as the Sri Lankan of the Year in 2016 and also presented with a doctorate by Massey University of New Zealand. Apart from that Dilmah Tea was recognised by Medinge Group as a brand with a conscience.
In 2019 he handed the baton of the business to his son Dilhan C. Fernando who took over as Dilmah Tea CEO. The much accomplished father had ensured that the son who had arrived in Sri Lanka with all the professional qualifications also spent time learning from 'Merrill's own university'- Dilmah Tea. And Dilhan had once affirmed in an interview given to the media that one of the best lessons learnt from his father was on humility.
---
---