For aligning with the SLPP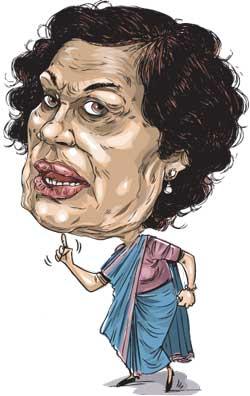 By Ajith Siriwardana
Charging that Mahinda Rajapaksa and former President Maithripala Sirisena destroyed the Sri Lanka Freedom Party (SLFP), former President Chandrika Kumaratunga said Maithripala Sirisena should be expelled from the party for aligning with the Sri Lanka Podujana Peramuna (SLPP).
She told media at the BMICH on Wednesday after making a statement on the Anti-corruption Committee Secretariat that Maithripala did not listen to her when she said for two years not to join the SLPP.

"When I told them not to join the SLPP as SLFP would be destroyed if they did so, I was removed from the politburo of the Party and as the Organiser for the Attanagalla electorate," she said. Responding to a question on SLFP's plans to back away from SLPP, she said Maithripala was repeating today what she said two years ago. "Maithripala is repeating what I said for years. He should be expelled from the party," she said.