Priyantha Kumara's widow asks for justice
This is not to take revenge. But this should not happen to anyone in future
I request Prime Minister Imran Khan to bring justice to my husband and punish the culprits as soon as possible
My special thanks to the Sialkot Chamber of Commerce and Prime Minister Imran Khan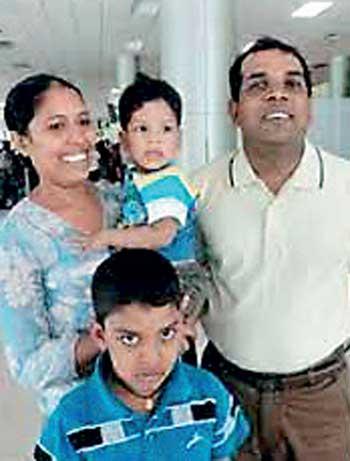 By Kelum Bandara
Nilushi Dissanayake, the widow of Priyantha Kumara who was killed in a mob attack in Sialkot, Pakistan, requested the Pakistani Prime Minister Imran Khan to bring the perpetrators to book and ensure justice.
She made such remarks at the condolence reference held in memory of Priyantha Kumara at the Pakistani High Commission. "My special thanks to the Sialkot Chamber of Commerce and Prime Minister Imran Khan. I request Prime Minister Imran Khan to bring justice to my husband and punish the culprits as soon as possible. This is not to take revenge. But this should not happen to anyone in future.

I thank all the Pakistani's who supported me in this difficult situation and all staff of the high commission for arranging this event. Also, I would like to thank Sri Lankan President, the Prime Minister and other ministers and Media institutions for supporting me," she said.

"I raise my children not to hate people who killed their father. but to be kind to them according to the teachings of Buddhism," she further said.