UK, New Zealand, Israel already facing cases of Delta Plus
All indoor gatherings should stop and outdoor spaces should not be packed
Vaccinated people now forgetting health guidelines
Health Promotion Bureau says vaccinated people, if infected, more likely to get virulent COVID-19 variants like Delta Plus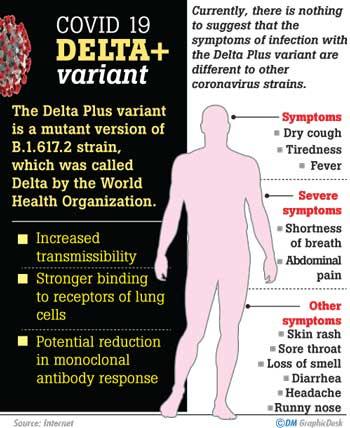 By JAMILA HUSAIN
Sri Lanka's health authorities yesterday warned that they had gone on alert over the mutated version of the Delta variant, known as the Delta Plus which was already spreading in countries such as the UK, New Zealand and Israel, infecting even those fully vaccinated.
Despite repeated warnings by the Health officials, senior health experts said they were disappointed that a majority of the people, especially those who were vaccinated, were not adhering to health guidelines and had not adapted to the new normal.

In fact, health experts have warned people to stop all gatherings and parties, especially those held indoors and in small outdoor spaces, as other countries were already seeing fresh outbreaks from the mutated versions of the Delta variant. The Health Promotion Bureau (HPB) will today carry out a fresh campaign to educate the people over the dangers caused by the Delta Plus and remind people on the health guidelines that should not be ignored.
Director of the HPB Dr. Ranjith Batuwanthudawa told Daily Mirror that the Delta Plus had hit some countries with large populations who had stopped adhering to the health guidelines and this was a serious concern in Sri Lanka as well. "Looking at our people's behaviour, they are very irresponsible, thinking they are safe from the COVID-19 just because they have received both doses of the vaccines," Dr. Ranjith said. "Some of these variants are more common among the vaccinated people because that is the nature of this virus as it is trying to survive. Different variants are mutating, including the Delta which can possibly surpass the vaccine if they find a suitable breeding ground.

So if the vaccinated people are misbehaving, the virus will find a new ground to mutate, bypassing the vaccine. That is why countries that had a high vaccination percentage are now having a breakthrough of the Delta Plus. UK, New Zealand and even Israel," Dr. Ranjith said.

He urged the public, especially those who were fully vaccinated to be even more vigilant and adhere to the guidelines which included wearing face masks, maintaining social distancing, and avoiding coming in contact with people in long durations. While some health experts said outdoors meetings could be conducted due to there being ventilation, Dr. Ranjith explained that even in the outdoor spaces, people's presence should be limited. "If we have a small garden, which is also packed with two hours of partying and singing and if they are even one or two infected people, the chances are that the others will get infected too," he said.

With the government having to concentrate on running the economy, doctors have urged people to get used to the new normal life. "The government cannot be putting laws to keep controlling the people, as they have been doing that for over one and a half years. People have to get used to it. People who booked hotels and went out this week are the people who can read and understand and know what is happening around the world," Dr. Ranjith said.
According to studies, the AY.4.2, which some are calling the Delta Plus, contains mutations that might give the virus survival advantages. Tests are under way to understand how much of a threat it may pose. The original Delta was classified as a variant of concern in the UK in May 2021 after overtaking the Alpha variant to become the dominant type of Covid in circulation, foreign media reports quoting studies said. But in July 2021 experts identified AY.4.2.

This offshoot or sublineage of Delta has been increasing slowly since then. It includes some new mutations affecting the spike protein, which the virus uses to penetrate people's cells. So far, there is no indication that it is considerably more transmissible as a result of these changes, but it is something experts are studying.
So far, there is no indication that it is considerably more transmissible as a result of these changes, but it is something experts are studying
The government having to concentrate on running the economy, doctors have urged people to get used to the new normal life
If the vaccinated people are misbehaving, the virus will find a new ground to mutate, bypassing the vaccine