Opposition refused to extend their support citing various reasons
Focused on amending existing tax mechanism
Discussing with the IMF to include tax reforms in our plans at the review in June
Urge opposition to support agreement
Govt. aims to reduce primary deficit to 2.3% of GDP by 2025 and increase revenue to 14% of GDP by 2026
Standard corporate income tax rate has been raised to 30% and sectoral tax holidays have been eliminated
The PAYE tax rate has been raised from 12% to 15%, and the tax exemption limit reduced from Rs. 300 mn to Rs. 80 mn
Govt. to reduce existing tax exemptions on VAT by 2024, remove the simplified VAT system, and expedite its reimbursement
Estate Duty will be introduced as a property tax by 2025, with a minimum tax exemption allowance
Govt to publicize institutions, individuals enjoying tax concessions, holidays and securing procurement contracts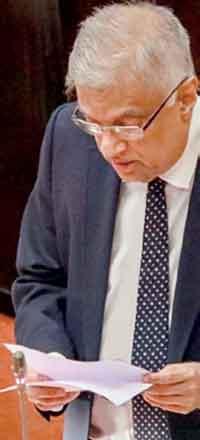 By Ajith Siriwardana
Claiming that the government will have to introduce numerous economic reforms in addition to the reforms that have already been implemented, President Ranil Wickremesinghe said yesterday that the government was aiming to reduce the inflation rate to 4-6% and bring it to a single digit by mid-2023.

Making a special statement in Parliament on the IMF report, he said the credit facility amounts to approximately USD 3 billion over 4 years, with the first tranche of USD 333 million will be received.
The President told Parliament that the House was required to approve the IMF report by the third-week of April.

He said if one has any issue regarding the IMF report, they could talk it over with the IMF when they come back to Sri Lanka.

"I can talk with bi-Lateral, multi-lateral and private bondholders if the Parliament prepares to accept the IMF report. I urge this House to support this report. If you have any issue, you can talk it over with the IMF when they come back. I can't force everyone to support the report. They may find reasons not to support it. The world has to know where we are and we will ask for a vote by name, you can vote whichever you want. We will not force anyone. If I don't get it, I can't go and continue the second round of negotiations," he said.
---
---