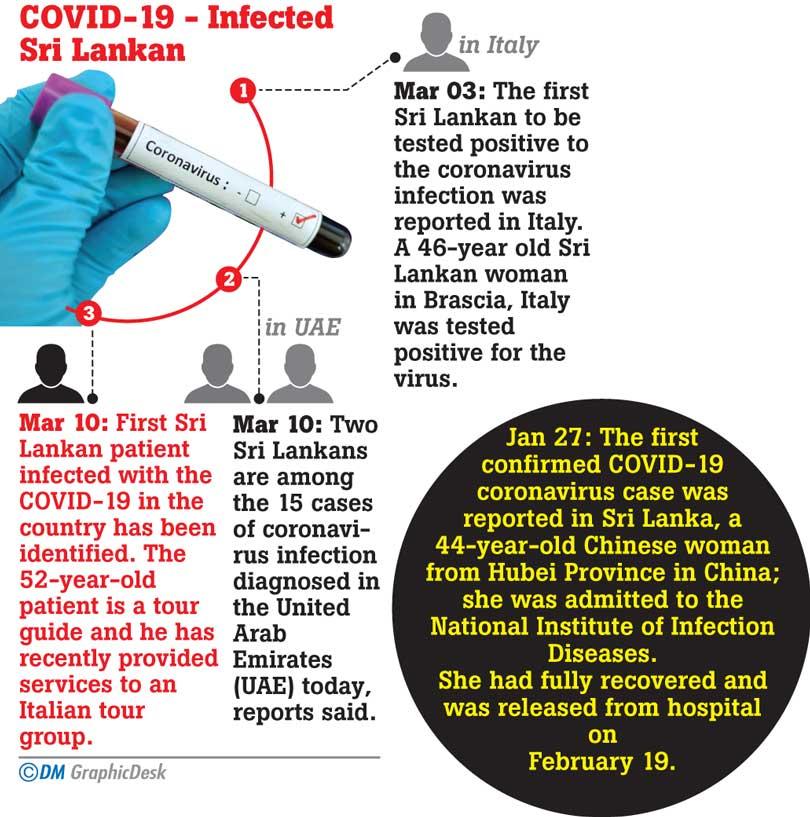 52-year-old tour guide from Colombo District had traveled to many parts of the country with a group of Italian tourists
4,443 Chinese nationals who have returned after a visit to China are under post medical observation
By Sandun A. Jayasekera
The first ever Sri Lankan detected to have been infected with COVID 19, was being treated at the Infectious Disease Hospital (IDH) at Angoda and his family members had been placed under home quarantine, Director General of Health Service (DGHS) Dr. Anil Jasinghe said yesterday.
The 52-year-old tour guide from Colombo District had travelled to many parts of the country with a group of Italian tourists and was diagnosed with the viral disease on Tuesday (10), Dr. Jasinghe added.

He declined to disclose specific information of the patient and his family under the provisions of the Privacy Law.

Dr. Jasinghe told the media at the Health Ministry auditorium last morning that though the group of Italian tourists had already left Sri Lanka, the Health Ministry had taken all measures possible to contain further spread of the viral infection.

"Soon after we found the Sri Lankan with the viral infection on Tuesday, we put in place an immediate Contingency Health Plan involving the Airport and Aviation Services Ltd, Emigration and Immigration Department and Sri Lanka Army," he said.

"Right now, 4,443 Chinese nationals who have returned after a visit to their motherland are under post medical observation in many parts of Sri Lanka through PHIs. We also keep a close watch on places where the Italian tourists visited, those who associated with them and hotels and guest houses they stayed in. In addition, we subject all air passengers who are arriving in the country from Italy, Iran and Korea for a 14-day quarantine session. We control and prevent further spread of COVID 19 under four steps. They are: Preventing an infected person entering the country, preventing the spread of the viral disease, treat infected patients and getting ready with a contingency medical plan, if the viral infection shows tendency to escalate. Sri Lanka is at first and second stages at the moment," Dr. Jasinghe stressed.

Those who are coming from Italy, Korea and Iran must necessarily remain under 14 days of quarantine spell because it was quite possible to infect others if one of them had been infected with the virus without subject to quarantine.

The public support as a national and family obligation was extremely vital to contain COVID 19 and spread within Sri Lanka, in the same way the public responded when Sri Lanka airlifted 33 students from Wuhan, in Hubei Province in China, the epicenter of COVID 19 viral infection, Dr, Jasinghe added.

Sri Lanka has already suspended air flight to China and pilgrimages to India.

"We must treat the COVID 19 infection as a war situation and face it successfully as we did in 2009, because we don't want another Korea, Italy or Iran in Sri Lanka, "
Dr. Jasinghe emphasized.
We must treat the COVID-19 infection as a war situation and face it successfully as we did in 2009
Health Ministry has taken all measures possible to contain further spread of the viral infection
---
---