The erased data contained information of a list of medicines that were imported at a higher price in 2019
Lorazepam injection 4mg in 1ml ampoule had been imported at Rs 18,330 in 2019, whereas the present regime bought it for only 373.00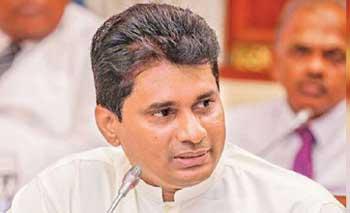 By Yohan Perera and Ajith Siriwardana
The 5,925 files out of the database of the National Medicine Regulatory Authority (NMRA) which has been destroyed contained data on medicines imported by the previous regime at exceptionally high prices, State Minister Channa Jayasumana informed Parliament yesterday.
Dr. Jayasumana who was responding to a question raised by Leader of Opposition Sajith Premadasa said the erased data contained information of a list of medicines that were imported at a higher price in 2019. These medicines include Captopril Syrup 100ml which had been imported at Rs 55 ,195 during the last regime, whereas the present regime had paid only Rs 373 for a 100ml bottle, Lorazepam injection 4mg in 1ml ampoule had been imported at Rs 18,330 in 2019, where as the present regime bought for only 373.00, Metaraminol Injection 10mg in 1ml ampoule has been purchased at Rs 20,611 whereas the present regime had paid only Rs 3,975 for it.
The list which was tabled by the State Minister comprised around 40 kinds of medicines that were brought at exceptionally high prices during the last regime. "However the data pertaining to purchase of COVID vaccines had not been destroyed and are safe," he said. "EPIC Ltd. which had signed a contract with NMRA had breached the agreement as it had failed to maintain a backup system to save the data. The database of NMRA had been weak and the institution had failed to rectify and maintain it," he added.