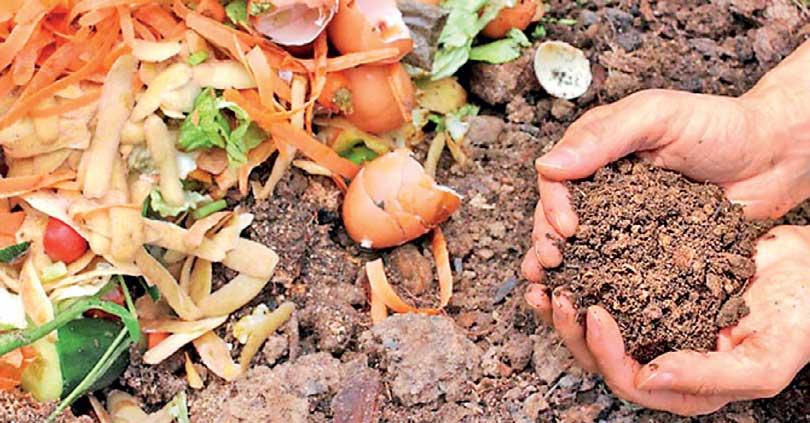 We produce a lot of organic urban waste and these could be easily converted to organic fertilisers
Inorganic fertilisers to be made available for farmers at a higher price and a subsidy should be given for organic fertilisers
Around 20 entrepreneurs with the technology to produce organic fertiliser have been registered at the National Fertiliser Secretariat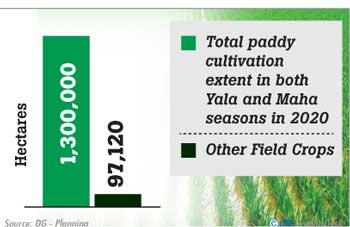 By Kamanthi Wickramasinghe
Speculation is rife whether the country would experience a food scarcity with the government's move to shift to an organic agriculture system. Responding to a query on these speculations, Prof. Gamini Senanayake, Chairman of Sri Lanka Council for Agricultural Research Policy said that he doesn't see such a big issue. "There would be a reduction in yield but it won't lead to a food scarcity. This is due to many reasons. We have excess production of rice and is available in stores for another nine months. This is because we cultivate fields in two seasons. These are exaggerated reports."

He further said that already there is a certain amount of fertilisers in soil. "Therefore, plants can survive with those fertilisers. However we need at least three years to start using organic fertilisers. But we will have to face many hardships during the initial stages."

Subsidize organic fertilisers

When asked if Sri Lanka can proceed with one type of fertiliser or include both organic and inorganic options Prof.Senanayake said that in that case people would tend to opt for the cheaper option. "We produce a lot of organic urban waste and these could be easily converted to organic fertilisers. What I propose is to make inorganic fertilisers available for farmers at a higher price and a subsidy should be given for organic fertilisers. So those who can afford will buy inorganic fertilisers and subsequently they will switch to organic fertilisers because it is available at a subsidized rate."

Can produce our own organic fertiliser

Prof. Palitha Weerakkody of Department of Crop Science, Faculty of Agriculture University of Peradeniya also opined that there won't be a scarcity provided that good quality organic fertilisers are used. "Nitrogen, Phosphorus and Potassium are essential nutrients for the growth of plants."

He further said that so far around 20 entrepreneurs with the technology to produce organic fertiliser have been registered at the National Fertiliser Secretariat. "This technology could be used to produce organic fertiliser in the country. Apart from that, companies that import inorganic fertilisers have the capacity to produce organic fertilisers. Paddy farmers with less than one hectare of land and small scale vegetable farmers could produce organic fertiliser at home. We already have cow dung, and leaf manure which is being used once in a way. Therefore there won't be a food scarcity per se."

"Sri Lanka needs around 1.2 million metric tonnes of inorganic fertilisers annually. But the requirement varies from crop to crop. Spices for instance require only around 10% so we only need around 60-70% of fertilisers from the total amount we get," he added.

Reduction in yield would lead to a scarcity

On a contrary note, The All Ceylon Farmers Association national organizer Namal Karunaratne said that without a proper policy framework to utilize organic fertilisers, there will be a scarcity of food in the future. "We don't oppose the organic fertiliser concept but it has to be implemented after a proper analysis. Right now farmers are unable to obtain fertilisers or pesticides. Even the prices of seeds have increased. Many farmers have given up farming due to scarcity of resources. When inquired, shop owners who sell seeds claim that farmers don't buy seeds anymore. Farmers don't get the expected yield. Most vegetables have deformities and the yields are so poor that farmers are on the verge of giving up what they have been doing all this while. These are signs of a scarcity. Therefore in a few month's time people should be ready to buy a kilo of vegetables or fruits at prices as high as Rs. 400 or 500."
Responding to claims that there would only be a reduction in yield and that claims of a food scarcity are a mere exaggeration, Karunaratne said that a lesser yield will eventually result in a scarcity. "Already short-term crops such as raddish, beetroot haven't shown much progress in many vegetable plots. I visited many vegetable plots and in one water melon plantation even the vines have not spread out as expected. Some crops take around 45 days to grow and even on their 25th day, there are no signs of progress. These are clear indications of a scarcity which will occur in the near future."

On April 22, President Rajapaksa declared a ban on the import of inorganic fertilisers while the cabinet approved the proposal by the President including a ban on agrochemicals with immediate effect from April 26. While both these decisions received much opposition, the Agriculture Minister Mahindananda Aluthgamage subsequently announced that organic fertilizers would be imported. This announcement too received much criticisms as importing organic fertilisers violates the Plant Protection Act of 1981. Even though it was later clarified that organic fertilisers would be disinfected, that again doesn't serve the purpose and on Monday, the Minister once again said that there are no moves to import organic fertilisers as reported.