Govt. urged to wake up before it is too late
I don't have money to get medicines from private pharmacies
SLMA slams Govt. for turning a blind eye on drug shortage
By Sheain Fernandopulle
The general public who come to seek medical treatment from Government hospitals is facing great inconvenience as they are being asked to purchase certain drugs and get certain tests done from private laboratories which is like jumping out of the frying pan and into the fire.
Speaking with several patients who had arrived at the National Hospital Colombo to purchase medicines, Daily Mirror noticed that the poor are feeling the brunt of the significant drug shortage prevailing in government hospitals forcing them to purchase drugs from private pharmacies, which costs them additional amount.

Muhammad, one of the patients said he came all the way from Jaffna to seek medicines for diabetes. However, he was asked to purchase two drugs from outside as they were not available in the National hospital.

Soysa Rajapaksa, another victim said he was told to take his son out of the hospital to get two tests called wound swab culture test and antibiotic sensitivity test which had cost Rs 1,950.
Nilmini Kumari, a resident of Maharagama said she was also asked to purchase a drug from a private pharmacy as it was not available in the hospital. "This is indeed time-consuming. Besides, we'll have to bear additional cost as well. This is really injustice,"

Kumarasinghe, who is in his 70s said he had to go home to find some money to purchase a medicine prescribed by the doctor. I don't have money at present. Need to go home. We as the poor have to suffer now," he stated. Meanwhile, President of Society of Government Pharmacists Thushara Ranadeva also admitted that there is a critical drug shortage in government hospitals.

Moreover, Dr Vinya Ariyaratne, the President of the Sri Lanka Medical Association (SLMA) told Daily Mirror "There is an acute shortage of certain drugs at Government hospitals. However, the Government seems to have taken the matter for granted,"

According to sources, there is a shortage of over 120 drugs which includes painkillers, drugs for diabetic, cancer and heart patients and surgical items.
There is an acute shortage of certain drugs at Government hospitals. However, the Government seems to have taken the matter for granted
---
Minister admits shortage of 111 drugs
Actions afoot to address drug shortage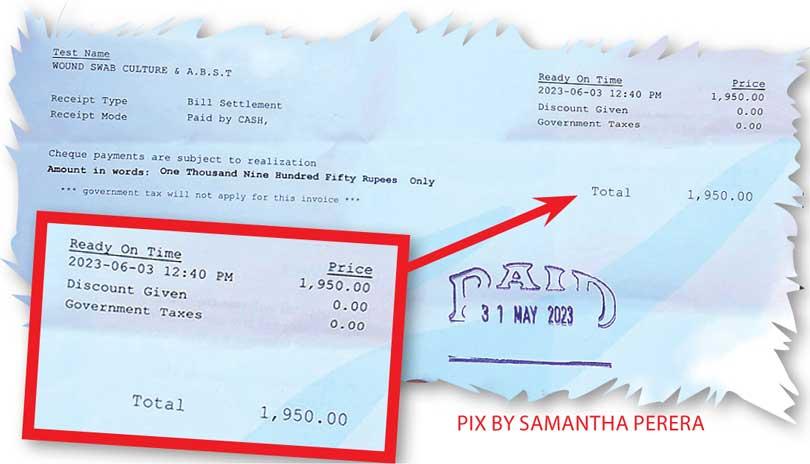 By Sheain Fernandopulle
While admitting that there was a shortage of 111 drugs as of yesterday (30), Health Minister Keheliya Rambukwella said that the Government has paid special attention to the matter and actions are underway to address the shortage.

He told Daily Mirror that certain medical experts who make allegations about drug shortages are going by past statistics which does not depict the actual picture.
"There was a shortage of 200 items three months ago, which have now come down to 112. It will further decrease to 70 within the next two weeks," the Minister emphasized.

When asked whether there are sufficient funds to purchase drugs, Rambukwella said "It is undeniable that Sri Lanka has been facing its worst economic downfall since last year. Now, we are on the mend. In this context, there have been minor issues with releasing funds. However, we are now getting adequate funds from the Treasury needed to purchase medicines and other essentials,"
---
---