In the face of the setback we suffered in the last general election, we as a party are of the view that we need to re-emerge stronger than before and that a comprehensive reorganisation programme is essential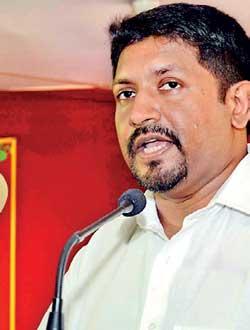 By Yohan Perera
UNP Deputy General Secretary Ruwan Wijewardene yesterday called for a broad reorganisation of the party on the basis of the common agreement reached to do it under a new leader.
"It is clear that the United National Party has reached a crucial juncture. In the face of the setback we suffered in the last general election, we as a party, as well as myself personally, are of the view that we need to re-emerge stronger than before and that a comprehensive reorganisation programme is essential. To this end, all members of the party have already reached a consensus to carry out the relevant reorganisation and restructuring process under a new leader," Mr. Wijewardene said.

"Different names have been suggested for different responsibilities and it seems that there is a subtle competition between senior members of the party and their supporters. The UNP is not a model of a family dominated political party that has emerged from time to time in the history of this country. There is no shortage of leaders in the party today who will come forward to lead us. We, as a political party, have achieved victories in the past, setbacks in the face of various political challenges and have risen again with great strength. All the while our members have united to protect the party, its leadership and its supporters," he added. "I would like to remind everyone of the need to reach a unanimous decision by rejecting dissent, while working resolutely to protect the country, the nation and the party," he said.

Mr. Wijewardene's statement comes nearly 24 hours before the UNP working committee meets to decide on its future. The Working committee is to meet today to discuss about the future of the party.
Different names have been suggested for different responsibilities and it seems that there is a subtle competition between senior members of the party and their supporters