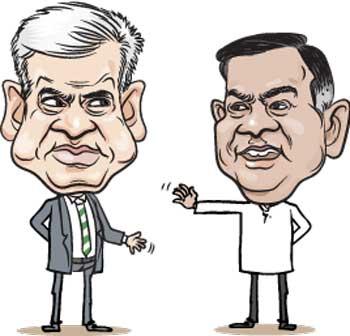 By Yohan Perera and Ajith Siriwardana
Heated arguments erupted with regard to the Hambantota Port in Parliament yesterday. The initial argument arose between SJB MP Tissa Attanayake and Former Prime Minister Ranil Wickremesinghe. Mr. Attanayake said the port was sold to China while Mr. Wickremesinghe said it was given only on a 70-year lease. "When an asset is leased for a period more than 33 years, it is considered sold," Mr. Attanayake argued.

Minister of Ports Rohitha Abeygunawardene who joined the cross talk said it is a 99-year lease. "I will send a copy of the agreement where it is clearly written that the Port has been leased out for a period of 99 years," he said.
"It is possible for the Sri Lankan government to take over the port by making a payment to the Chinese government," Mr. Wickremesinghe said. "It is not possible to take over the Port instantly ," Abeygunawardene said.