The SLAF said Roshan's passion for swimming had led him on the path of entering the Guinness Book of World Records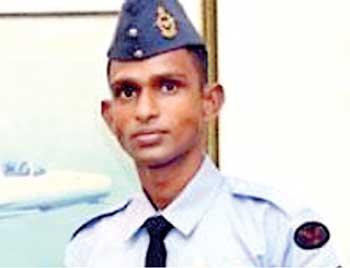 By Darshana Sanjeewa Balasuriya and Romesh Madushanka
Roshan Abeysundara, an airman of the Sri Lanka Air Force swam from Mannar to Danushkodi, India and returned to Mannar yesterday morning within 28 hours 19 minutes and 43 seconds, setting a new Asian record, the SLAF said.
Roshan started swimming from the Uruthota Jetty in Talaimannar to Danushkodi at 2.00 a.m. yesterday and returned to the point where he had started last morning.

He set a new record of the National Open Water Swimming twice within a short time period. He created a new record by swimming a 25km distance from Matara to Koggala on January 3, 2021, clocking a time of 10 hours and 37 minutes and went on to set the record by swimming a distance of 49 miles from Matara to Hikkaduwa and back to Unawatuna on 27 February 2021 with a timing of 23 hours and 10 minutes.

The SLAF said Roshan's passion for swimming had led him on the path of entering the Guinness Book of World Records, as he swam to renew Kumar Anandan's 50-year-old record which was set in 1971 by swimming the Palk Strait within 51 hours. However, Roshan swam from Mannar to Danuskodhai, Rameshwaram in India and back, covering a distance of 59.3 km.
He created a new record by swimming a 25km distance from Matara to Koggala on January 3, 2021