A team of specialist surgeons from Sri Lanka and India who performed the surgery said it was the first in the medical history of Sri Lanka to have successfully transplanted three organs through one surgery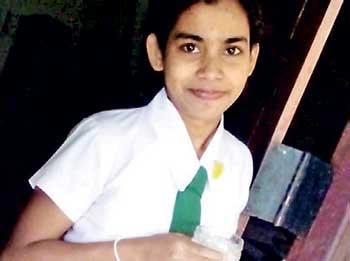 By Kalani Kumarasinghe
The organs of a 19-year-old schoolgirl Vihangana Nuwanmini of Ambanpola in Nikaweratiya who was declared brain dead, were successfully transplanted to save the lives of six critically ill patients.

The transplant surgeries, the first of its kind performed in Sri Lanka also saved the life of an anaesthesiologist who had taken ill with a coronary ailment which affected her heart and lungs. The surgeons said that the anaesthesiologist was now recovering.

19-year-old Vihangana was under treatment in the Intensive Care Unit of the Kurunegala Teaching Hospital when she was declared brain dead and her parents had consented for her organs to be donated.
Vihangana herself had consented for her eyes to be donated to the Sri Lanka Eye Donation Society who will soon facilitate the cornea grafting to benefit two more patients.

A team of specialist surgeons from Sri Lanka and India who performed the surgery said it was the first in the medical history of Sri Lanka to have successfully transplanted three organs through one surgery.

The two kidneys and the liver of the deceased Vihangana were transplanted to cure two patients suffering from acute renal ailment and another whose liver functions had been crippled. The doctors said the three patients were now recovering. The doctors added that the bone marrow of the deceased would be used in the treatment of several other patients as well.
Vihangana, was a student of Kurunegala Maliyadeva Balika Vidyalaya, and recently sat for the G.C.E Advanced Level examination.
---
---