---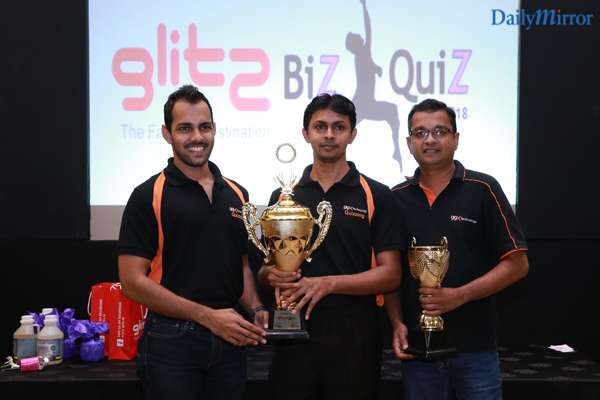 99XT 1: IT/Software category champions and runners-up of the Glitz Biz Quiz 2018 (from left) 99X Technology Associate Technical Leads Rangitha Kuruppu and Shirantha De Alwis, and 99X Technology Senior Technical Lead Sudath Thenuwara
A mere point separated 99X Technology from the overall winners at the recently concluded Glitz Biz Quiz 2018, where top corporate masterminds battled it out over five rounds of questions that tested their general knowledge to the very core.
The 99X Technology Quiz Team comprising of Associate Technical Leads Shirantha De Alwis and Rangitha Kuruppu, and Senior Technical Lead Sudath Thenuwara went head-to-head with over 30 corporate teams and after 50 questions, their efforts saw them emerge IT/Software category champions for the sixth year running and place second overall.
Held at the Galadari Hotel, Colombo, the quiz attracted Sri Lanka's premier corporate quiz teams including Dialog Axiata, People's Bank, Hatton National Bank, DFCC Bank, Seylan Bank and SriLankan Airlines, among others.
Having emerged the Mercantile Quiz Champions at the 2017 edition of this premier corporate quiz, the 99X Technology Quiz Team was keen to chalk up yet another victory to its name, yet conceded the title to the 2016 winners, People's Bank.
Initiated by a group of enthusiastic, like-minded employees with a keen interest in general knowledge, the 99X Technology Quiz Team has maintained a constant presence in the mercantile quiz scene over the past several years and continues to make its mark at a number of events annually.
In addition to becoming overall champions at the Biz Quiz last year, some of the team's highlights include placing third at the Biz Quiz 2015, becoming runners-up at CMI Corporate Quiz in 2015 and being crowned champions at the Governor's Challenge Cup Quiz 2014.