---
Kanishkha Salpitikorala
Sri Lanka, the pearl of the Indian Ocean, boasts some of the most beautiful natural landscapes, from lush rainforests and vast mountain ranges to thriving wetlands and rich marine habitats, all of which are dense with wildlife.
Currently showcasing one of the highest biodiversity densities in Asia, Sri Lanka is one of 36 global biodiversity hotspots. With 26.5% (including coastal and marine areas) of the country declared as protected as per the Biodiversity Clearing House Mechanism of Sri Lanka, the island nation's forests are home to a wide range of exotic species.
However, like many other wildlife-rich countries, this isle is no stranger to the plagues of poaching, hunting, and the illicit wildlife trade. Becoming increasingly popular, the poaching of bushmeat has brought with it ecological imbalance, torturous and inhumane methods of capture, high frequencies of unintended bycatch and severe threats to the country's charismatic wildlife such as the Sri Lankan leopard (Panthera pardus kotiya) and the Sri Lankan elephant (Elephas maximus maximus).
WHAT is Bushmeat?
A term originally coined in Africa to refer to the flesh of wildlife caught in the "bush", the term is now ubiquitously used to refer to the meat of any wildlife. Poaching for bushmeat in Sri Lanka is an illegal practice to harvest wildlife for consumption. Such offences are strictly prohibited under the 1937 Fauna and Flora Protection Ordinance (FFPO).
Poachers target deer and wild boar for their meat and pelts, and reptiles like tortoises and turtles for their meat and eggs. Additionally, animals are targeted for other parts, such as ivory, paws, or pangolin scales.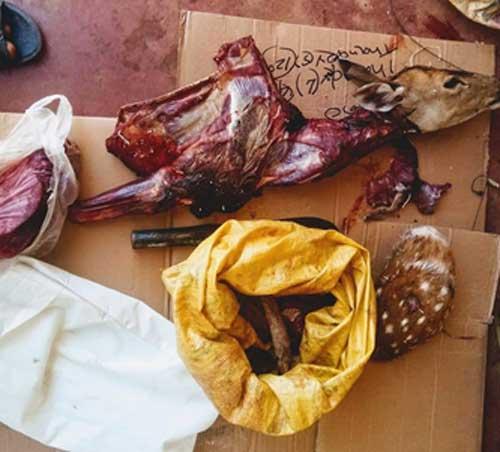 Spotted deer meat recovered from a 2018 raid in Hambantota
Mostly carried out in areas with high wildlife populations, the poaching of bushmeat and subsequent consumption has drawn the attention and concern of conservationists and environmentalists here in Sri Lanka. Unsustainable and ecologically devastating, the bushmeat trade is largely driven by the demand for exotic, non-typical meats.
Wildlife Protection in Sri Lanka
The FFPO is the primary piece of legislation used for the protection of wildlife in Sri Lanka. The hunting/poaching of any animal that is "strictly protected" is considered a non-bailable offence under this legislation. The Ordinance also prohibits the use of snares and explosives, declares restricted areas, outlines and details prohibited actions such as trade and sale wildlife meat, and provides classifications for several species.
While these protections do exist, a shortage in training and manpower is an ever-present issue for wildlife authorities. The resources available to eradicate trafficking and poaching all over the island is limited and cannot keep up with patrolling all of the expansive wildlife reserves and protected forests.
WHY do people consume and trade bushmeat?
There are two ways to explain the demand for bushmeat.
One is consumption — the meat of wild boar and deer is not the typical sort of meat that can be found at your local grocery store. However, in rural areas and farming communities, where subsistence hunting is normal the meat from these animals is consumed as a source of protein.
However, there is another category of consumer that exists and that is those who seek the exotic. The human condition is such that, we covet that which we see but cannot have. The appeal of consuming something exotic somehow feeds the need for exclusivity, which then creates a demand that must now be fulfilled, which leads us to our next category.
Profit. The "exotic" branding linked to bushmeat, and animal products (tusks, leopard paws, pelts) has made it highly profitable in illegal trading circles and the appeal to earn often outweighs the moral fortitude of poachers. Commercial poaching, while less prevalent in Sri Lanka still poses a problem that should not be ignored. While the numbers are low (though not insignificant), it is the very action of exploiting, damaging, and stripping wildlife for profit and trade, that shows a deep sense of disconnect and disrespect for nature and the natural order.
As demand increases, the prevalence of poaching increases, to which the consequences reach far beyond the simple killing of an animal. On a global scale, the ramifications of poaching and the illegal trade and consumption of bushmeat has contributed to a decline in several species, resulting in more than a few becoming critically endangered and even going extinct.
HOW is Bushmeat caught?
Methods of poaching bushmeat in Sri Lanka include shooting, snares, and the laying of jaw exploders. While shooting is the most straightforward, snares and jaw exploders are methods that have drawn significant attention for being inhumane, dangerous, and also severely problematic when it comes to unintended captures.
Snares
A snare is basically a noose made of steel cables, set up and concealed along animal trails. The snare is triggered when the animal touches the cable which then springs the noose. This then catches around the neck, limb or trunk of the animal and tightens as the animal struggles to free itself resulting in horrific injuries and often a slow and painful death.
Jaw Exploders "Hakka-Patas"
Jaw exploders are another incredibly popular and incredibly abhorrent method of poaching bushmeat. Typically used to target wildlife such as wild boar and deer, they are designed to kill instantly.
Made from gunpowder and/or pop-pop crackers mixed with gravel and metal scraps to act as shrapnel, the mixture is tightly packed together and covered with fodder or dried fish. This makeshift explosive is then left on trails frequented by animals. These improvised devices are designed to detonate when bitten into.

Jaw exploders or "Hakka Patas" recovered from a 2017 raid in Hambantota
Effects of the bushmeat trade
Bycatch
The negative effects of the methods of capture highlight the direct correlation between the threat to Sri Lanka's charismatic wildlife and protected species and the bushmeat trade.
The issue faced by using snares and jaw exploders is not only the torturous and inhumane nature of the methods but also the unintended "bycatch". Snares being indiscriminate by nature, do not differentiate between a target animal such as a wild boar and other animals, such as leopards.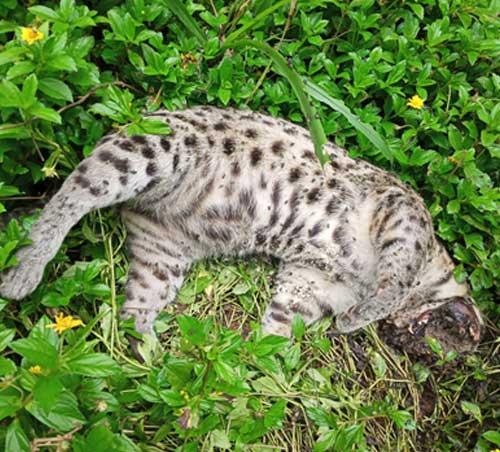 A fishing cat killed by a jaw bomb
When it comes to snares, many animals like the leopard often get their bodies trapped in snares and larger animals like elephants reportedly get their trunks or legs caught in snares. In the case of leopards, the snares typically catch them around the hips causing severe and often irreparable damage to organs such as their kidneys.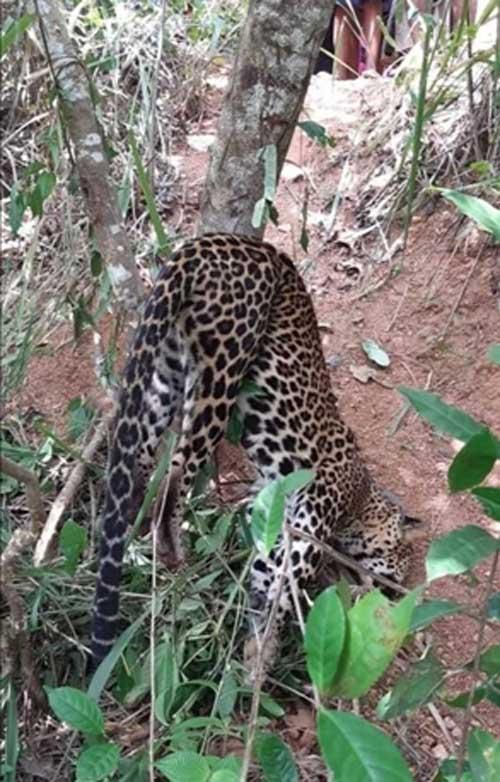 A leopard killed after being caught in snare in Gampola
As per data from The Wilderness and Wildlife Conservation Trust, 90% of Leopards caught in snares die. In Sri Lanka, out of 47 leopards caught in snares since 2010, 42 died, a number entirely too high for such a heavily protected species. This also makes snares a leading cause of death for Sri Lanka's leopards.
Even if large animals like the elephant are able to break free, the tightened cable on their limb, not only causes scarring, and restricts blood flow, but also limits movement which ultimately affects their ability to find food.
Jaw exploders much like snares allow poachers to catch wildlife without having to be there. While smaller animals die instantly from the detonation, larger animals such as the Sri Lankan elephant often do not. Instead, they end up severely injured and suffer long and painful deaths from infection and starvation caused by the debilitating mouth injuries that come from an explosive device shattering their jaw and launching shrapnel into their mouths.
The North Central province of Sri Lanka, as well as parts of the Eastern province show prevalence in this due to a high elephant population within the area. From the first recorded death in 2008 to now, jaw exploders have become a key killer of the Sri Lankan elephant. Conservation news platform, Mongabay, reports that out of a total of 323 elephant deaths recorded in 2020, 54 of those can be attributed to jaw exploders.
According to the Department of Wildlife Conservation (DWC), while most reports are about leopards and elephants, they are not the only victims to such methods of poaching. The rest, which include Sri Lanka's three small wild cats, are just not reported.
It is also important to note that rescue and treatment for the animals often comes after many hours — which is often many hours too late. Help is only deployed when someone reports it, which for a trapped animal may seem like a lifetime, and in many cases, it is.
Bycatch can cause the radical drop in population of one species and/or an increase in another, or the removal of apex predators, thus directly affecting food chains and causing significant imbalances to the ecosystem. This can cause a thriving ecosystem to stop functioning, be riddled with disease or suddenly experience a shortage in food and other resources.
Zoonotic Diseases
While animals provide us with a wealth of benefits, there are drawbacks, especially when it comes to the trade and consumption of bushmeat. The wildlife trade is not only a threat to the animal population but can lead to the transmission of zoonotic diseases/zoonoses, which can have devastating effects for human beings.
Zoonoses are diseases that are transmitted from animals to humans and are caused by harmful germs like viruses, bacterial parasites, and fungi. Illnesses can range from being relatively mild to life threatening. These germs can originate in the animal itself, parasites that use the animal as hosts, or can even be acquired during unhygienic means of storage and preparation of their meat.
The recent COVID-19 pandemic and the subsequent economic, societal and healthcare fallout is a strong example of the threat that zoonoses play in the global arena. COVID-19, however, is not the only example we can draw from. Somewhere close to 60% of infectious diseases originate from animals, with SARS, HIV and Ebola just to name a few.
Without more awareness and stringent restrictions on hunting and trade, we are doomed to repeat this cycle. However, it is clear now that the world will find it difficult to survive another devastating pandemic.
The Impact of People
During the pandemic we saw global lockdowns that put an immediate halt to tourist foot traffic, leaving our wildlife parks empty of visitors. The economic ramifications of this saw reformed poachers return to their previous professions, some for money and others for subsistence.
Increased urbanization has also compounded the issue with the decimation of natural habitats and an increase in the demand for bushmeat. Thus, to meet such demand, the prevalence of poaching has only increased. Actions like these over time can directly cause a slow and steady population decline in several protected species, which will in turn endanger Sri Lanka's biodiversity.
The complexities of the bushmeat trade shows us that nipping demand in the bud may not be enough – awareness is critical but will not on its own address the issue of why the bushmeat trade persists. Without the income from tourism, people who relied on it were left destitute and desperate, resorting to former income streams like hunting, which highlights the importance of economic diversification in such areas. Empowering locals to have other means of income will play a significant role in curtailing the trade.
It is clear from the above that a multi-pronged approach that highlights the ramifications of the bushmeat trade to both the suppliers and the consumers, whilst also advocating for more resources in training, monitoring mechanisms and manpower to fully enforce the FFPO is needed.
Sri Lanka's ecosystems are delicate and is reliant on balance. We can help prevent this imbalance by engaging in the dialogue and rethinking our consumption habits.
Raising awareness on the dangers that the bushmeat trade poses towards nature and our wildlife is an important step towards the reduction in consumption. Informative discussions on how the actions of people directly affect the environment around them can help in steering consumers towards more sustainable, ethical choices that don't bear the consequences of endangering our protected species.
Protecting ecosystemic balance and safeguarding rare, endangered, endemic species should be a part of our daily discourse. Our choices should reflect our commitment to preserving wildlife and protected areas whose very existence is in jeopardy due to human activities.
Many projects and initiatives on this issue, dedicated to conservation and raising awareness are being carried out in Sri Lanka. One such initiative, currently ongoing, is a "Say No To Bushmeat" (வனவிலங்கு இறைக்சியை தவிர்ப்போம் / දඩමසින් වැළකෙමු) social media-based trilingual awareness campaign carried out through the collaborative efforts of Small Cat Advocacy and Research, Leopocon Sri Lanka and The Parrotfish Collective, with the support of the Lanka Environment Fund. Join them and others in bringing awareness to the cause and help drive conversations towards conservation.