---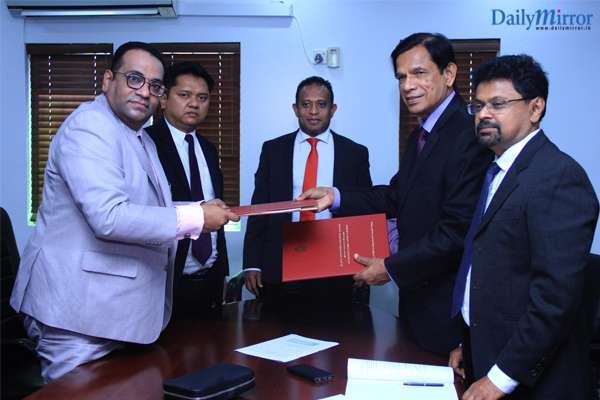 (L-R) – Dato Dr. Emmanuel Benson – Chairman & CEO of Smart Trends International Lanka, HE Azhar bin Mat - Acting High Commissioner of Malaysia to Sri Lanka, Chandima Weerakkody – Hon. Minister of Skills Development & Vocational Training, Eng. Dr. Lionel Pinto – Chairman, Vocational Training Authority Sri Lanka and Thilak Kariyawasam (Attorney at Law) – Vice Chairman, Vocational Training Authority at the signing of the MOU
Minister of Skills Development & Vocational Training, Sri Lanka, witnessed the MOU signed between the two parties
Colombo, March 27: Smart Trends International Lanka entered into a strategic partnership with the Vocational Training Authority of Sri Lanka to offer the UK awarding body, NCFE's globally recognized certified courses in Sri Lanka.
The MOU was signed in the presence of the Hon. Chandima Weerakkody, the Minister of Skills Development & Vocational Training Sri Lanka.
Eng. (Dr) Lionel Pinto, the Chairman of the Vocational Training Authority of Sri Lanka and Dato Dr. Emmanuel Benson, the Group Chairman & CEO of Smart Trends International signed on behalf of their respective organizations.
NCFE is a national awarding organization, passionate about designing, developing and certifying high quality, nationally recognized qualifications and awards. These qualifications contribute to the success of millions of learners at all levels, bringing them closer to fulfilling their personal goals. Last year alone, over 340,000 learners from over 2,000 colleges, schools and training organizations chose NCFE as the awarding organization to help them move their careers forward. ( https://www.ncfe.org.uk/about-ncfe/ ).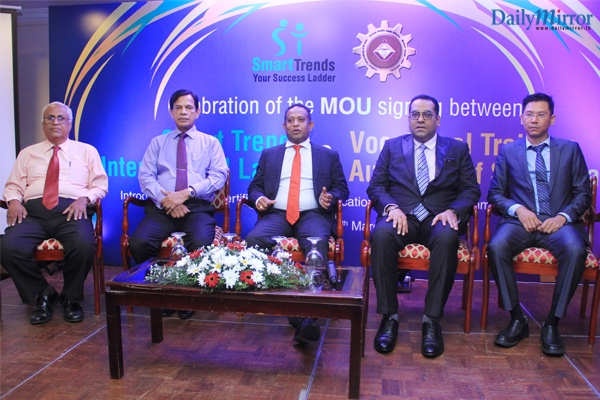 (L-R) – Eng. Nissanka N. Wijeratne – Secretary General/CE of the Chamber of Construction Industry Sri Lanka, Eng. Dr. Lionel Pinto – Chairman, Vocational Training Authority Sri Lanka, Chandima Weerakkody – Hon. Minister of Skills Development & Vocational Training, Dato Dr. Emmanuel Benson – Chairman & CEO of Smart Trends International Lanka and Maheswaren Balakrishnan – COO of Smart Trends International Lanka
Dato Dr. Emmanuel Benson, the Chairman & CEO of Smart Trends International Lanka said, "It is a significant and memorable milestone for Smart Trends International Lanka to be given the honour to partner with the Vocational Training Authority of Sri Lanka in this strategic partnership. Our first initiative will be to develop and design a scaffolding training course (Level 1-4) incorporating innovative learning solutions, taking into account current local manpower expertise and needs and aligned to industry requirements.
This will include a process, whereby Smart Trends International and NCFE will identify and train a master-trainer who will then conduct the train-the-trainers programme in Sri Lanka, with a con-current programme for independent assessors".
"Furthermore, we are confident that these courses will allow Sri Lankans to up-skill and up-scale their vocational expertise, thereby allowing them to be highly employable not only within Sri Lanka but within the regional and global construction industry, where their expertise will be in much demand in the long run", added Dr. Benson.
Besides NCFE, specific training programmes will also be endorsed and certified by the Industrial Training Institute of Kuala Lumpur, the oldest vocational training institute in Malaysia, founded in 1964.
Smart Trends International Lanka will build a dedicated custom-built Scaffolding Training facility and simulated training and test area with six purpose-built scaffolds. Besides the above, training facilities with class room and management offices will also be opened concurrently.
The Level-1 Scaffolding course will be spread over 10 days and offer insights into scaffolding; from duties and responsibilities to scaffolding materials used and types, practical theory and on-site training to safety issues and a 3-4-part assessment.
"We are confident, that by working in close partnership with the Vocational Training Authority of Sri Lanka, we will be able to offer a globally benchmarked qualification on scaffolding knowledge and practical skills that will prepare Sri Lankans who will be entering the building industry to erect scaffolding safely and according to specifications", said Dato Dr Benson.
The VTA (Vocational Training Authority of Sri Lanka) was established with the intent of providing skills for employment by the Manpower Division, which is the training arm of the Labour Department that was running Technical and Vocational Education, as well as training programmes in many parts of Sri Lanka. This was converted to the newly constituted Vocational Training Authority making vocational training more accessible to rural youth and depressed segments of the country.
The VTA operates as the largest training center network of Vocational Training with 224 Vocational Training Centers, 22 District Vocational Training Centers and 7 National Vocational Training Institutes, from a mere 31 Vocational Training Centers in 1995. The VTA trains up to 35,000 youth annually in 83 trades in 18 trade sectors.
Smart Trends International (Malaysia) SdnBhd is a leading Training, Recruitment and HR Consultancy offering globally recognized, certified programmes with accredited partners. Our customized learning and support solutions help entities enhance productivity, reduce time-to-market, improve produce and process quality, and increase revenues. In Malaysia, Smart Trends International works closely with the HRDF (Human Resources Development Fund) under the aegis of the Ministry of Human Resources Malaysia to provide recruitment, training and job placement for Malaysians, as well as develop tailor made programmes based on industry needs for the up-skilling and up-scaling of the Malaysian workforce, thereby further enhancing their employability and high-income capability. Smart Trends International Lanka is a member of this group.