---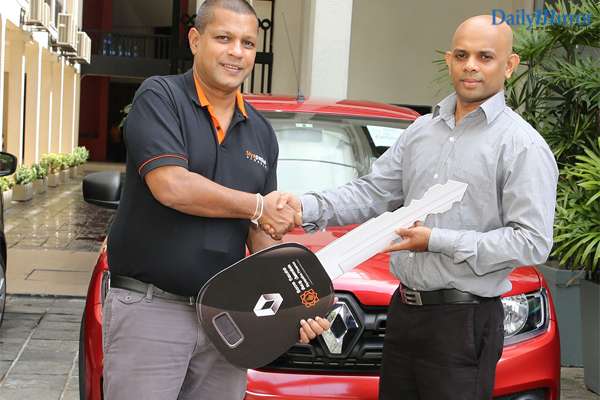 Grand Prize Winner - Mr. M.P.S. Marasinghe with Mr. Rajeev De Silva, Chief Operating Officer, Siyapatha Finance PLC
Siyapatha Finance PLC successfully conducted the 'Siyapatha Bonanza' award ceremony recently. The event was graced by Mr. Rajeev De Silva, the Chief Operating Officer of Siyapatha Finance PLC and other officials of the organization, twenty-one lucky customers walked away with amazingprizes as promised by Siyapatha Finance PLC.
The 'Siyapatha Bonanza' was initiated as a means of rewarding Siyapatha Leasing and Gold Financing customers and is a much-awaited event in the organization's calendar. The winners were selected from a list of customers who obtained Leasing facilities and Gold Loan Facilities during the promotional period announced.
The grand prizewinner in the Leasing category,Mr. M. P. S. Marasinghe, found himself driving home in a brand-new Renault KWID. In the Gold Loan category, a winner was selected from each of Siyapatha Finance's branches. These lucky winners were presented with extremely valuable 22k gold coins. They are, Mr. I.M. Rifasi - Ampara, Mr. M. Aswer - Anuradhapura, Ms. A.I. Shalika - Avissawella,Ms. Y. I Haleema - Batticoloa, Ms. M. D. Madara - Gampaha, Mr. A. Hameedu – Kalmunai, Mr.Nimal Silva – Kalutara, Ms.Kandaiya Yureka – Kandy, Ms.Raja Shashikala – Kegalle, Ms.Jasintha Malani – Kuliyapitiya, Mr. G. G. Chandana – Kurunegala Metro, Mr.Amal Indika – Matara, Ms. K.M.S. Priyangani – Negombo, Mr. S. Muralidharan – Nugegoda, Mr.Jayantha Seneviratne – Nuwara-Eliya, Mr. A.Paandiraja – Ratnapura, Ms.S. Hulasimani - Sainthamarthu, Ms.M.S Wahitha – Trincomalee, Mr. S. Thivaraghan – Vavuniya and Mr. M.Muniyandi – Wellawatte.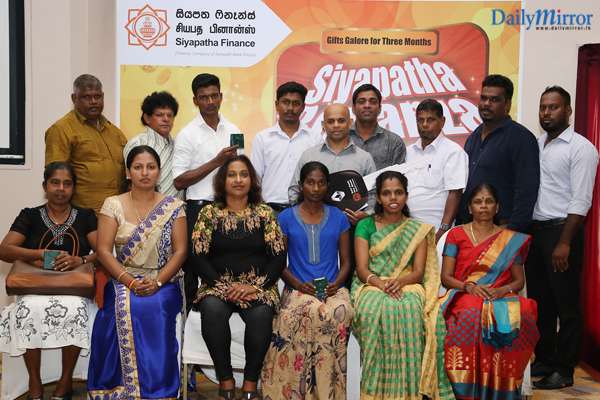 Siyapatha Bonanza winners
"At Siyapatha Finance our primary objective is to ensure that our customers receive the highest standard of service with best value for their engagement with us. I believe that the success of Siyapatha Finance has always been rooted in our customers. Thus, it gives me great pleasure to see the 'Siyapatha Bonanza' end on such a high note. I am confident that the 'Siyapatha Bonanza' will contribute towards long term customer engagement and improvecustomer loyalty with the company", stated Mr. Saman Herath the Managing Director of Siyapatha Finance PLC.
"I am very grateful to Siyapatha Finance for organizing such an event. I think it was my luckiest day when I walked into Siyapatha Finance. Today I'm the proud owner of a Renalt KWID as well.It has indeed increased my wealth", said Mr. M. P. S. Marasinghe beaming with gratitude.
"The 'Siyapatha Bonanza' was well organized. I would like to thank Siyapatha Finance for my prize and express my loyalty to the organization", said Ms. Jasintha Malani from Kuliyapitiya excitedly.
Siyapatha Finance is the fully owned subsidiary of the Sampath Bank Group. The Company offers wide range of services including Leasing, Gold Finance, Factoring, Business loans, Personal loans and Fixed Deposit servicesto the nation. Siyapatha Finance has indelibly marked her professional image in all the aspects of business and recently celebrated over 13 years of the organization's progressive journey in the Sri Lankan Financial industry. Siyapatha Financehas its presence felt in the main cities of the country including the North and East with a network of 26 Branches island wide.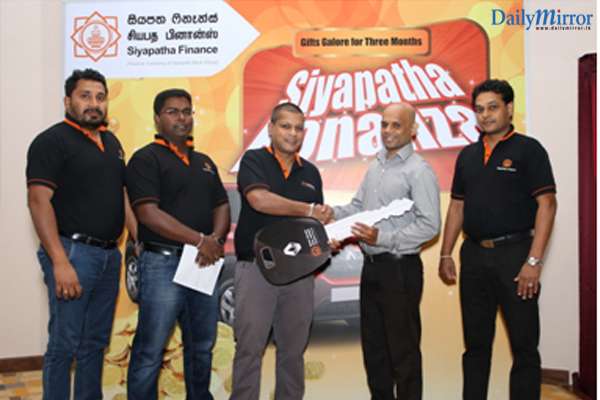 Grand Prize Winner - Mr. M.P.S. Marasinghe with Mr. Rajeev De Silva, Chief Operating Officer and other Management staff of Siyapatha Finance PLC