---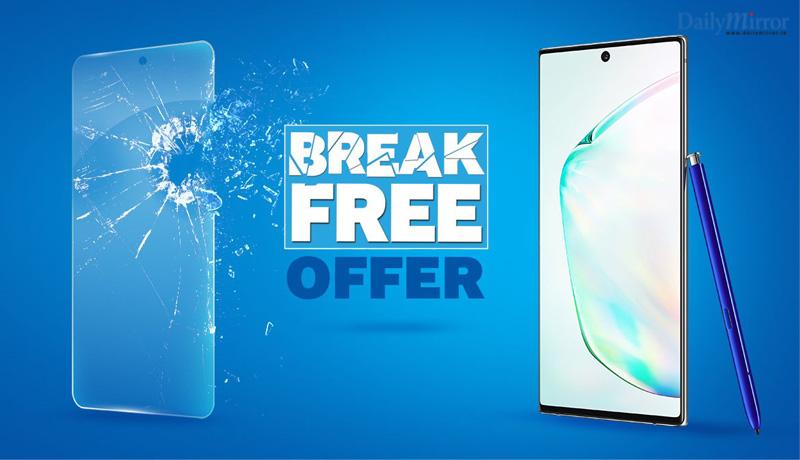 As Sri Lanka's No. 1 smartphone brand, Samsung continues to garner greater loyalty, through yet another exciting promotion for its customers. Samsung is bringing back the 'Break Free' offer due to its popularity amongst customers with a much more attractive offering which empowers customers to enjoy a free screen replacement with an attractive interest free instalment plan with the 1st instalment waived off. Samsung has identified that with phone screens becoming more display oriented and near bezel-less; screen shattering is an immense concern, which makes the 'Break Free' offer the perfect solution giving them peace of mind. This one time free screen replacement offer is an opportunity not to be missed as getting shattered screens replaced is a costly exercise now a days.
The Galaxy Note 10|10+ and Galaxy A80 are premier smartphones comprising superior features from Samsung; now available with an attractive instalment plan on selected credit cards, with the first month instalment waived off on every purchase. This offer by Samsung is a massive saving for customers who are interested in purchasing these devices. The promotion is valid till the 31st of December 2019.
As the No. 1 smartphone brand in Sri Lanka, Samsung continues to expand its customer base by entering into strategic partnerships to develop its distribution network in Sri Lanka.
Samsung Sri Lanka pioneers in after sales service with its 31 service centres island-wide, including 16 centres for mobile repairs and 15 centres for consumer electronics. As a symbol of its customer-centricity, Samsung has commenced a '1 hour mobile phone repair' service within its Colombo precincts.
Customers could reach out for any assistance on the 'Break Free' offer by contacting the Samsung customer hotline, which now offers extended working hours from Monday – Sunday, 8.30 a.m. – 8.30 p.m.