---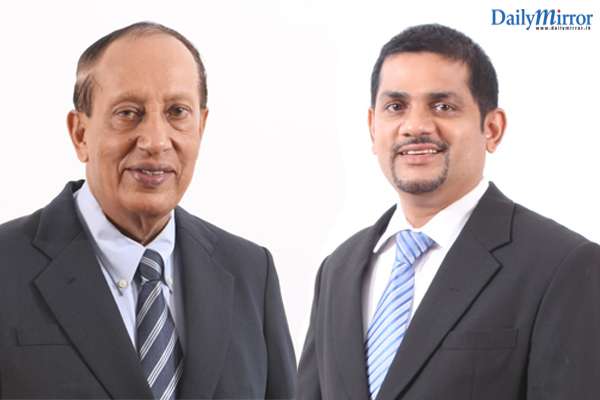 Dr Prathap Ramanujam, Chairman & Chief Executive Officer - Panasian Power, Pathmanatha Poddiwala, General Manager & Executive Director - Panasian Power
Panasian Power PLC (PAP.N), one of Sri Lanka's leading green energy solutions providers, posted a profit before tax of Rs. 207.5 million for the year ending 31st March 2018. The company generated Rs. 489 million in revenue for the year against Rs. 205 million the previous year. This was compounded by a healthy gearing for the company at 48%.
The company attributed this stellar growth to the addition of a further 6.3MW to the grid within the financial year as well as to improved operational efficiencies, energy enhancement exercises and prudent cost control practices. With this foundation in place, Panasian intends to further increase its installed capacity in FY2019 through solar and mini hydro power projects.
Furthermore, Panasian was able to record significant growth in revenue through solar power engineering, procurement and construction services (EPC) which constitutes part of their diversification process. The company's investments in rooftop and ground solar plants will result in an additional capacity of 7MW once on grid beginning from 2018.
This diversification into solar comes on the back of the CEB's plan to move away from coal as a source of energy generation and become an energy self-sufficient nation by 2030. According to the CEB's long term power generation plan renewable energy will contribute at least 21.4% towards total power generation by 2025.
In the near term the company will also explore opportunities in wind to eventually create an energy portfolio with equal exposure to all three renewable energy sources. Additionally, Panasian will look at foreign projects, in Africa and South East Asia, with a view to securing dollar revenue streams as well as aggressively reviewing M&A opportunities for future growth. This is in keeping with the company's target of becoming Sri Lanka's largest listed renewable energy solutions provider within the next three years.
Commenting on this record financial year Dr Prathap Ramanujam, Chief Executive Officer – Panasian Power, said, "We are pleased with our performance in FY2018. We were able to streamline many of our processes and create greater efficiencies within the company. We also looked at both organic and inorganic growth to increase our power generation as we aggressively sought bottom line growth. We also believe that the long term viability of our projects will ensure that our nation will be on track towards becoming energy independent which will help us reduce our foreign exchange outflows and lead towards wider economic development and a better quality of life for its citizens."
Panasian Power PLC, which was incorporated in 2002 owns and operates Mini Hydropower Plants and supplies electricity directly to the Ceylon Electricity Board. In 2017 the company diversified into solar energy to meet its revised target of having an energy portfolio of 30MW by 2020.