---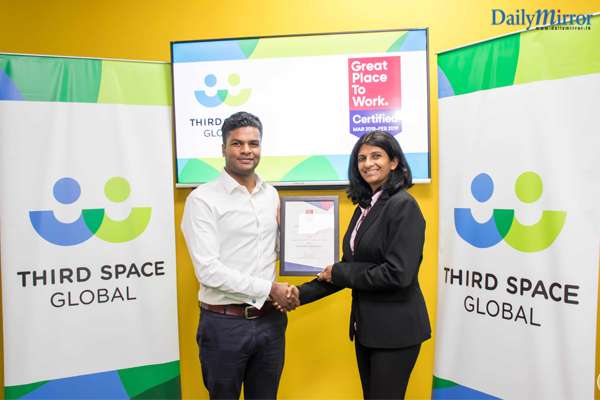 GPTW CEO, Ratnayaka and TSG CEO, Nilaweera with the GPTW award
Third Space Global, the British owned and BOI approved company based in Orion City was recognised as a Great Place to Work 2018 company. The GPTW 2018 certificate was officially presented to Third Space Global's CEO Roshan Nilaweera by GPTW Sri Lanka's CEO, Kshanika Ratnayaka on Monday, 14 May at the Third Space Global office.
Ms. Ratnayaka commented that this is an exceptional achievement given the uniqueness of Third Space Global. Unlike many of Sri Lanka's successful companies, TSG is relatively young, having only been set up in June 2015.
Since 2015, TSG has rapidly scaled from 25 to 250 staff whilst growing its business volume 17 fold. Despite its youth, TSG has remained focused on building a strong culture based on its core values of: Care, Commitment, Integrity, Innovation, and Excellence. This has allowed the team to rapidly adapt and grow as it scaled. It is not just the company's age, Third Space Global's workforce too is unusually young, with an average employee age of 23.3 years.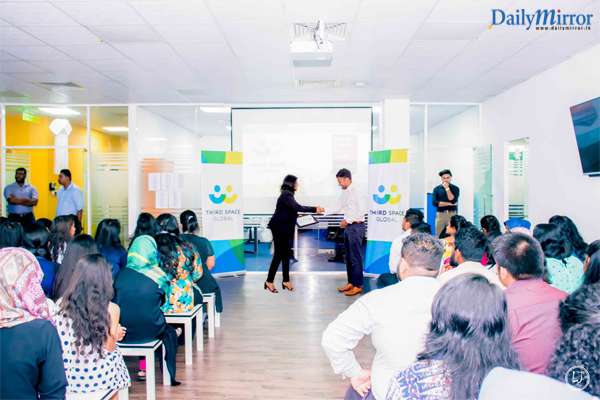 GPTW CEO, Kshanika Ratnayaka presenting Third Space Global with the GPTW award
Third Space Global continues to break with tradition as female staff represent 62% of the workforce. This figure is nearly twice that of the disappointing 36% female representation in the national labour force – the successes and challenges of which were discussed by Countess Sophie during her recent visit to Sri Lanka. TRH Prince Edward and the Countess also visited Third Space Global during their February trip.
Ms. Ratnayaka also commented on how exciting it is for Sri Lanka to have Third Space Global provide education services to the UK in such an innovative method. Currently, Third Space Global is the only company in the world that delivers one-to-one Maths online teaching to a state school education sector. By working directly with the schools, TSG are able to work with at-risk children who need extra support, thus allowing TSG to pursue its social mission "We seek social change by cultivating a global community of the most ambitious talent to make effective online teaching more accessible than ever before."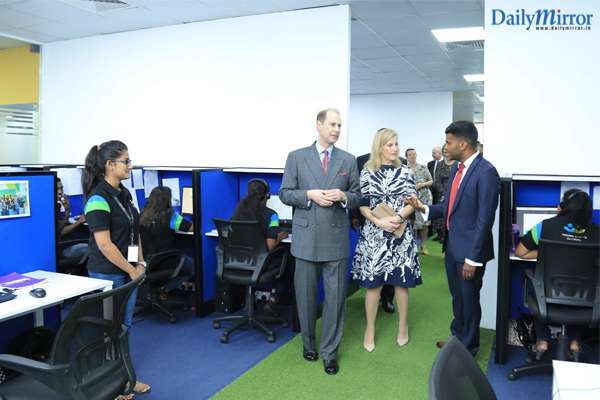 Earl and Countess Wessex visiting TSG in Jan 2018
For Roshan Nilaweera, this award is deserving recognition of the staff and culture at TSG. Going forward, Third Space Global intends to build upon this success by expanding its CSR programmes in collaboration with Sri Lanka's Department of Education as well as Commercial Bank whilst also looking at the development of a new technology platform to create jobs and opportunities across the whole of Sri Lanka.