---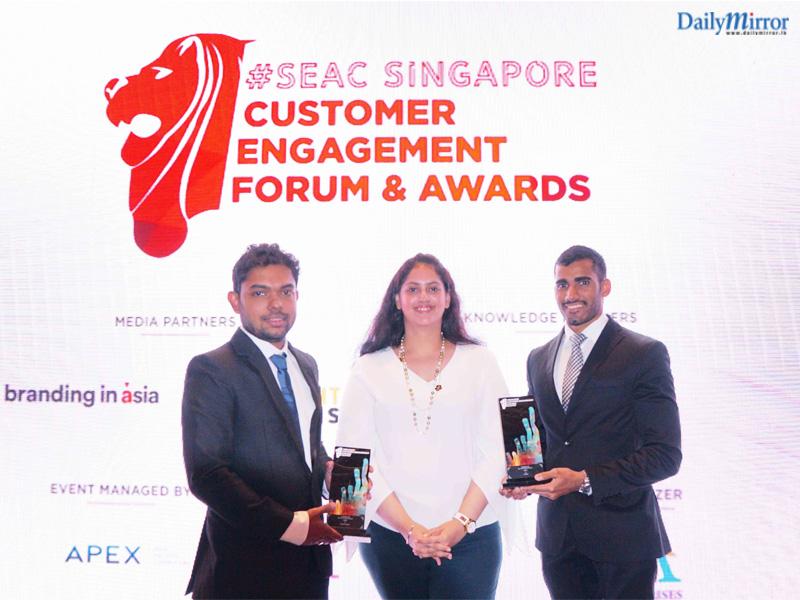 From Left – Sherom Fernando- Assistant Manager, Digital Media, Mobitel, Laxshmi Sachathep - CEO, Wemina (Thailand), Chevin Mandawala- Assistant Manager, Brands, Mobitel
Recognising its unparalleled customer centricity and care, Mobitel, was bestowed with 2 Gold 1 Silver and 2 Bronze awards at the 1st edition of SEAC Singapore Customer Engagement Forum and Awards, held in Singapore recently, by APAC Customer Engagement Pte. Ltd. (Singapore) and A&A Enterprises Sri Lanka, supported by ACEF Global. Entrenching its credentials once again on an international platform, Mobitel was awarded an array of medals among stiff competition from peers in the South East Asian region. As a testimonial to its innovative approach, Mobitel won a Gold and Bronze in the Best Use of Data & Research category for its Upahara offer and Suicide Prevention campaign respectively; another Gold for Excellence in Digital Transformation for its Mobitel Selfcare App; a Silver for Cash Bonanza in the Best Brand loyalty Marketing Campaign category and; finally, a Bronze for Excellence in Launch Marketing for its Master package.

The Chief Guest for the gala award ceremony was Nandana Wickramage (The Pratical Coach) from Sri Lanka along with noted speakers from across the Asia Pacific region including Raja Ramachandran - Director Marketing at Tech in Asia (Singapore); Abhishek Bhattacharjee - Chief Digital Officer at Invictus Blue Group (Malaysia); Preeti S. - CEO of ZtoA Marketing Solutions (India); Matthias Kraaz - COO at Windsor.ai, (Singapore); Kishan S. Founder at ThinkSocial Asia (Singapore) and Graham D. Brown, Founder of Pikkal & Co – a brand storytelling consultancy (Singapore).

The inaugural event featured industry leaders from across the region sharing insights on the latest trends in customer engagement along with an Awards Gala event awarding some of the top work across the Asia-Pacific. This event was primarily aimed at marketers who are looking for insights on how to build deeper engagement with their customers. The Awards recognize those who are doing innovative customer engagement work, while the Forum facilitates top leaders in the industry to share their experiences and successes with their peers across the region. Mobitel, through special offers, continually demonstrates how much it values its customers! A highly customer-centric company, under its credo of 'We Care. Always.' Mobitel strives to infuse convenience and flexibility into the lives of its customers. The support and loyalty in return from its customer base has helped it to grow and expand to become Sri Lanka's beloved telco brand.

This year the secretariat received 264 entries from Singapore, Malaysia, Vietnam, Sri Lanka, Indonesia and India competing for the Best Campaigns, Creatives, Activities, and Marketing Initiatives.